Workboat Coastal Crown hits the water
A launching ceremony of the Coastal Crown, the most sustainable workboat in the market, took place two days ago at the Bijlsma Wartena shipyard in the Netherlands.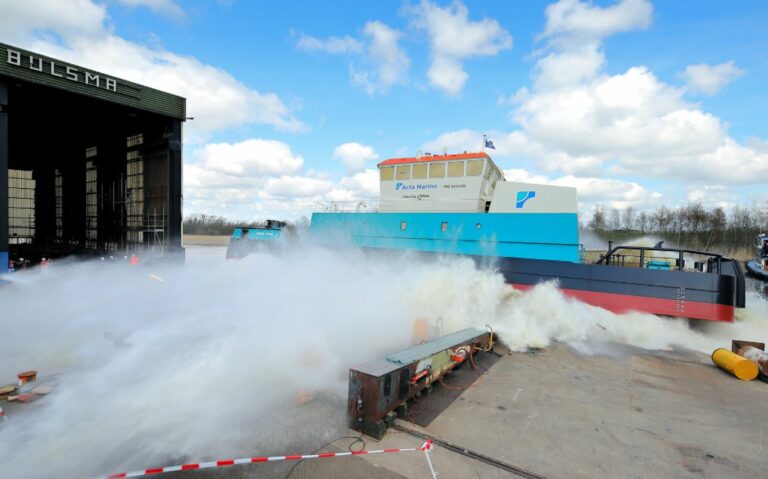 The 36-meter-long vessel, the newest addition to Acta Marine's fleet, is an ultra-shallow draft Multicat-type, equipped with Tier III engines to lower NOx emissions.
According to Acta Marine, she will also be equipped with a 300kWh battery-hybrid pack for both propulsion and the ship's accommodation, resulting in up to 15% reduction on fuel and CO2 emissions.
This vessel is the most sustainable and fuel efficient workboat in the market, resulting in:
73% savings on NOx emissions,
20% savings on Fuel and CO2 emissions.
With this new vessel, Acta Marine will be able to support its clients to include more sustainable workboat solutions in commercial offerings and projects. This is relevant in both the offshore renewables market and for coastal infrastructure construction projects.
"With our new Coastal Crown we are taking a big step in offering our clients marine services, such as anchor handling, route clearance, cable burial, wire laying and dredging support with substantially reduced emissions," said Managing Director, Govert Jan van Oord.
"As a company that is in business for the long term, stewardship is in our DNA and this investment emphasizes our commitment to reduce our emissions and create a more sustainable future."
The investment is being supported by a Sustainable Shipbuilding Subsidy from the Netherlands' government.