Bucket ladder dredger for CEMEX Rogätz plant
A high-performance, large-scale machine went into operation last month at the Rogätz gravel works in Saxony-Anhalt: a floating bucket ladder dredger 46 meters long and 10 meters wide, with a capacity of 400 tons per hour.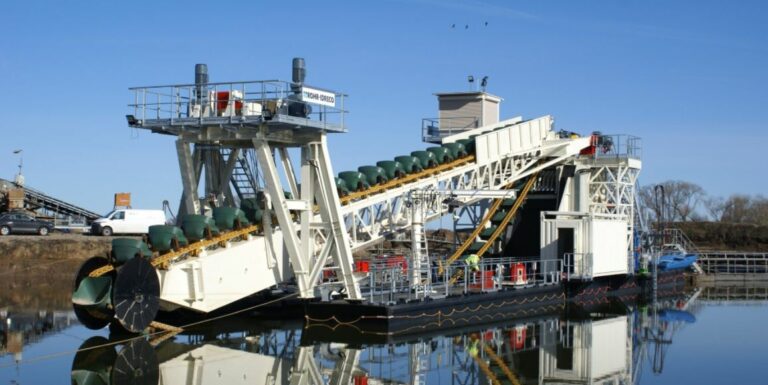 In a wet open-cast mine, CEMEX Kies Rogätz GmbH, a subsidiary of CEMEX Deutschland AG, extracts sand from an old arm of the Elbe into high-quality raw materials for construction and other industries.
"With this important investment, our company is strengthening its position in the Berlin metropolitan market and securing the long-term availability of valuable mineral raw materials for its customers," said Rüdiger Kuhn.
As Vice President Materials Central Europe of the internationally active building materials company CEMEX, he is responsible, among other things, for the mineral raw materials product area of CEMEX Germany.
At the end of November 2020, the new dredger's pontoon system was lowered into the water.
Specialists from ROHR-IDRECO then installed the other parts directly on site, including the bucketladder, which enables an excavation depth of up to 15 meters.
The floating bucket chain excavator accommodates the processing technology on board, including a dewatering screen machine and fine sand recovery.
Conveyor belts transport the processed sands and gravels ashore.
The new excavator replaces a 27-year-old device that has had its day. It consumes less energy and increases operational reliability, producing 50 tons more per hour than its predecessor.