Big milestone for the Fargo-Moorhead project
The U.S. Environmental Protection Agency (EPA) has announced a $569 million Water Infrastructure Finance and Innovation Act (WIFIA) loan for a project to increase climate resilience for communities in the Fargo-Moorhead metropolitan area by reducing flood risks.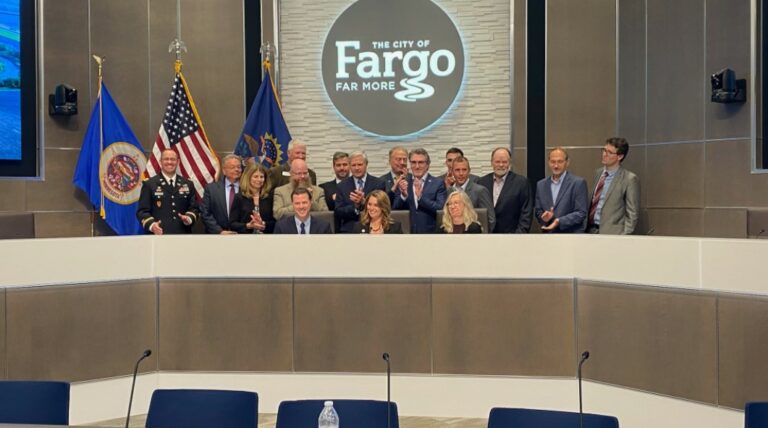 "The Fargo-Moorhead project illustrates that strong partnerships can be forged through investments in water infrastructure," said EPA Administrator Michael S. Regan. "Through water infrastructure, we can address local challenges while creating good paying jobs. Programs like WIFIA and the State Revolving Funds have a track record of success and could be scaled up to benefit more communities under President Biden's American Jobs Plan."
The Fargo-Moorhead Metropolitan Area Stormwater Diversion Channel Project includes two components to manage uncontrolled stormwater that can affect the metro area.
The stormwater diversion channel component includes the construction of a 30-mile channel to re-direct and temporarily store surplus stormwater flows safely away from the metropolitan area.
The in-town levee project includes modifications to 13 levees and 27 stormwater lift stations in the Cities of Fargo, North Dakota and Moorhead, Minnesota. By managing the flow of spring snow melt and summer stormwater, the project will protect 245,000 residents from flooding risks.
The Metro Flood Diversion Authority (MFDA) employed an innovative procurement approach to advance this important project by utilizing a public-private partnership (P3) model.
WIFIA's flexible loan repayment features were key in facilitating the P3 structure. This project will cost $1.3 billion and EPA's WIFIA loan will finance nearly half of that figure.
The remaining project costs will be funded by a combination of an $81 million North Dakota Clean Water State Revolving Fund loan, and over $650 million in private financing. Project construction and operation are expected to create an estimated 4,000 jobs.
Last week, the Army Corps, St. Paul District celebrated the Metro Flood Diversion Authority's contractor selection of a public-private partnership to the Red River Valley Alliance, Corporaciόn Acciona Infraestructuras S.L.
According to the Corps, the P3 contract is the first public-private financing of a civil works project in USACE's history. The Fargo-Moorhead Flood Diversion Project, in Fargo, North Dakota, and Moorhead, Minnesota, was the inaugural pilot project for the innovative funding concept.
This accelerated solution significantly increases the speed to complete the region's resilience to the annual Red River of the North flood threat.