First two nominations for the IADC Safety Awards 2021
In the coming weeks, International Association of Dredging Companies (IADC) will announce fifteen nominations that will compete for the Safety Awards 2021.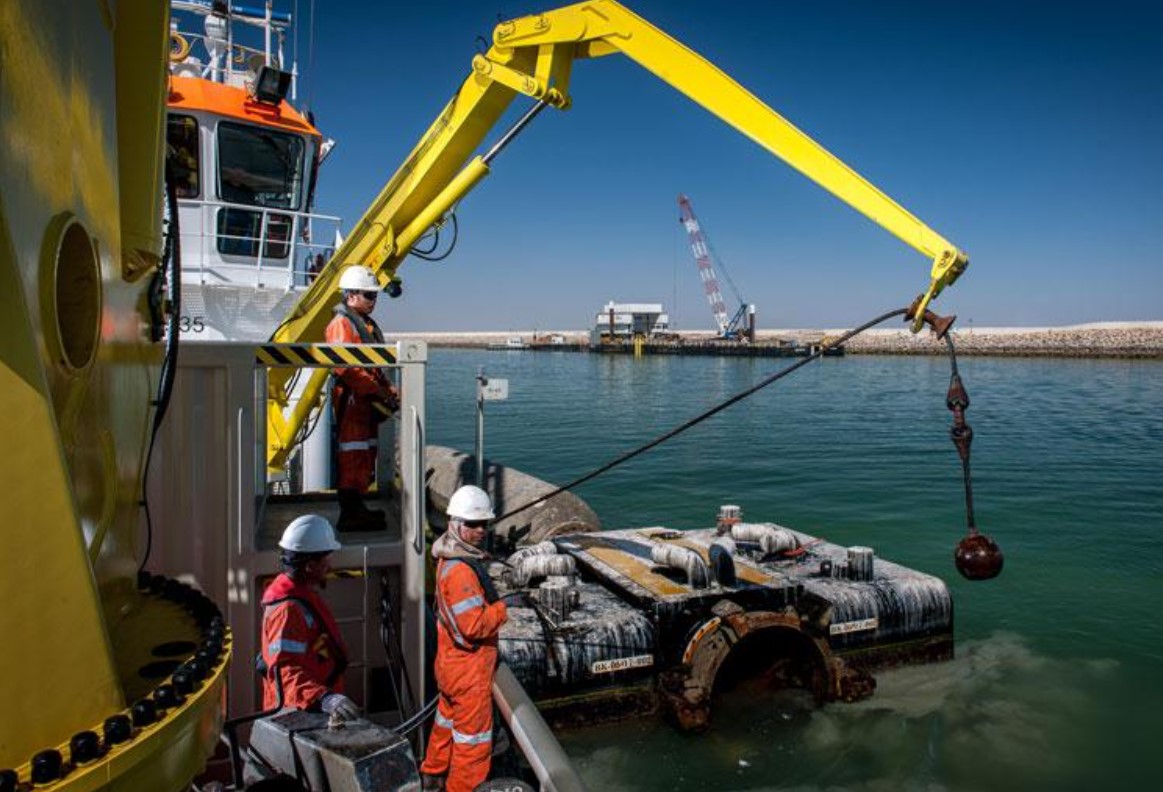 IADC will announce two nominations every week, starting from 19 July, 2021, and the winner will be announced on 16 September 2021.
As of 2021, two safety awards will be given: one to a dredging company and a second will be granted to a supply chain organisation active in the dredging industry. This concerns subcontractors and suppliers of goods and services, reported IADC.
1ST NOMINATION: KEPPEL FELS − 'SAFETY PLUS PROGRAMME AND NATIONAL WSH VISION 2028'
Keppel FELS, which is part of world leading shipyard group Keppel Offshore & Marine, continues to improve and enhance HSE excellence with robust HSE management systems, technology and innovation, and close collaboration with stakeholders in its operations and projects to ensure an incident-free work environment.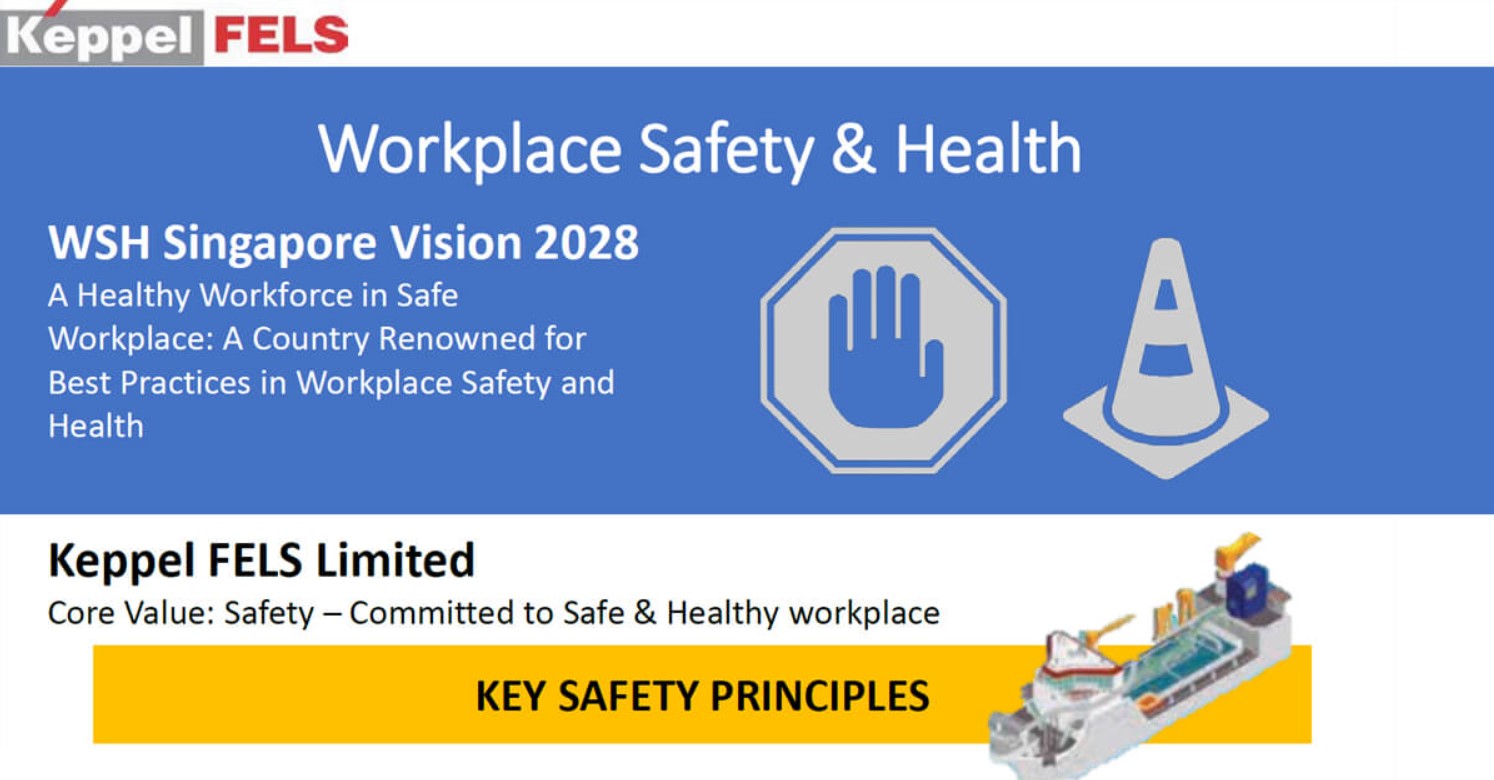 PROJECT DESCRIPTION
Customised safety innovation was implemented in Keppel FELS' construction of dredgers. While working with Jan De Nul and Van Oord, iDiver – a remotely operated robotic diver – was deployed to check the underwater conditions of the dredgers following undocking. This replaced the need for physical divers, thus eliminating the exposure to risks underwater.
After undocking, the Smart Robot, which automates inspections for bus-bar systems located in trenches, was deployed to ensure smooth operations of luffing cranes, which are used to bring construction materials like spools, hull outfitting and equipment on board the dredger for installation. The Smart Robot reduces the manpower required for each inspection, and eliminates the risk of personnel having to work in confined spaces.
Keppel FELS works closely with its customers, partners and vendors to address project concerns, exchanging important lessons learnt and organising collaborative HSE initiatives. Its holistic approach in HSE management ensures the safety and well-being of every individual working in the shipyard. For its efforts in achieving Zero Loss Time Incidents for the construction of the Sanderus dredger, Keppel FELS was also awarded a safety bonus by Jan De Nul.
2ND NOMINATION: JAN DE NUL − 'COORDINATED PUMPING OPERATION BY FLOATING PIPELINE BETWEEN 2 TSHD DREDGERS'
Jan De Nul has developed a visual tool that visualises and controls the maximum distance between two Trailing Suction Hopper Dredgers (TSHD) based on the length of a floating pipeline and live position of both ships. This allows for greater control in the challenging operation of pumping dredged material between two vessels.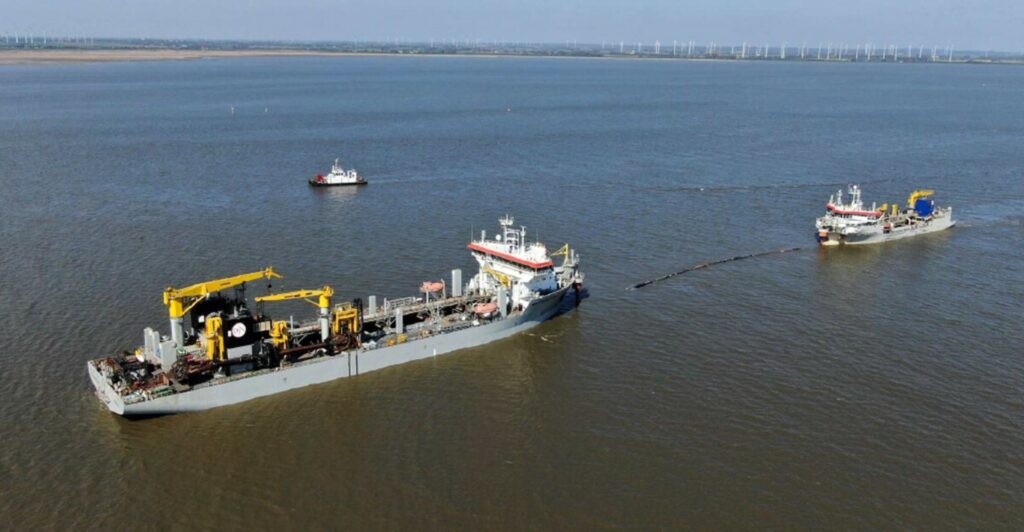 PROJECT DESCRIPTION
Due to the nature of the works on a project in Germany, Jan De Nul's dredger Pedro Álvares Cabral (PA) had to be connected by means of a floating pipeline to the Jan De Nul dredger Tristao da Cunha (TC). Dredged material was then pumped via the pipeline from the larger TSHD (PA) into the smaller TSHD (TC).
The operation, carried out on the river Elbe, presented several challenges, primarily maintaining the vessels positions with difficult site conditions. This included being close to a shipping channel with a lot of traffic and where post-Panamax container vessels pass, together with currents up to 3 knots. Other challenges included the smaller TSHD being pushed out of position due to the current, changing weather conditions and having to maintain a certain length of floating pipeline.
Coordination of the relative movements of both TSHD dredgers is crucial in this type of SIMOP operation. The larger TSHD (PA) first dropped anchor and the floating pipeline and the smaller TSHD (TC) were connected. A tool was designed to ensure the TSHD (TC) remained within the predefined circled distance from the TSHD (PA) considering the site conditions. The position of the TSHD (PA) was transmitted in real time to the TSHD (TC) by means of Rajant wireless network set-up. It was possible to ensure the bow of the TSHD (TC) remained within the predefined circle and the diameter was adjusted when current or weather conditions changed.
By means of this active monitoring system, increased forces at the couplings and in the floating pipeline could be prevented. Also thanks to this innovation, the smaller TSHD (TC) did not have to drop its anchor, resulting in reduced cycle times without compromising on operational control.