£140M Broadland project reaching its conclusion
BAM Nuttall, part of the Royal BAM Group, has just announced the completion of Broadland Flood Alleviation Project.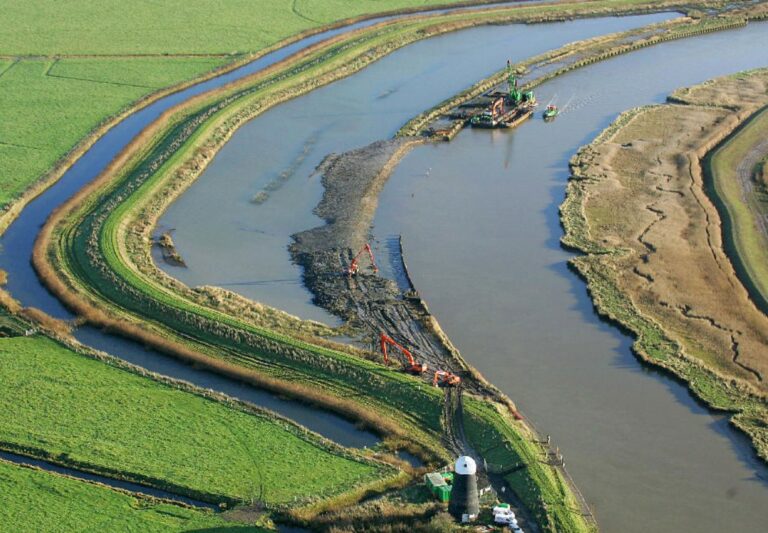 A host of environmental benefits and flood defences for towns and villages around the Norfolk Broads are the result of a 20 year project reaching its conclusion, reported the company.
Almost 2,000 homes and business and vital transport links are now better protected from 3 local rivers thanks to a multi million pound scheme from the Environment Agency.
The completion of piling works at Burgh Castle on the River Waveney marks the final phase of the £140 million Broadland flood scheme.
This project has improved flood defences, maintenance and emergency response services in the tidal areas of the River Yare, River Bure and River Waveney.
During the works, over 240 kilometres of flood banks have been upgraded and 36 kilometres of banks realigned inland. Major transport links such as the A47 and Norwich/Great Yarmouth/Lowestoft railway lines are also better protected.
"This project has given us a unique opportunity to extend the life of these flood defences, and help to preserve the special qualities of the Broads. We now have a more sustainable flood defence system which will reduce the burden on future generations for its upkeep," said Paul Mitchelmore, Environment Agency Project Manager.
"The Broadland Flood Alleviation Project will leave a significant legacy – safeguarding land and communities from flood, protecting local economic activity and providing an enhanced natural environment," commented Donald Morrison, Jacobs People & Places Solutions Senior Vice President for Europe and Digital Strategies. "The project's success demonstrates that large scale improvement schemes with a strategic approach to improving existing flood defences can be accomplished within a nationally and internationally important wetland area."
"Leading the development of innovative, sustainable solutions for rural flood protection schemes, this team maximised the use of material surrounding the work and minimised traffic through local communities," said David McGowan, BAM Nuttall Business Excellence Officer. "And over two decades, the project has provided employment and opportunities to develop skills for more than 1,000 local people, leaving a lasting positive legacy for people living and working in Norfolk."
Future funding
As the effects of climate change increase, the Broads will continue to be eligible for potential funding through the National capital programme 2021 to 2027.
This programme will see the government invest a record £5.2 billion in flood and coastal defences – double the previous investment – to better protect 336,000 properties.
The Environment Agency's National Flood and Coastal Erosion Risk Management Strategy for England will help prepare for more extreme weather and build a better prepared and more resilient nation.