Hochul announces start of Living Breakwaters Project
New York Governor, Kathy Hochul, yesterday announced the start of in-water construction of the Living Breakwaters, a $107 million effort that will provide physical, social, and ecological resiliency for the South Shore of Staten Island.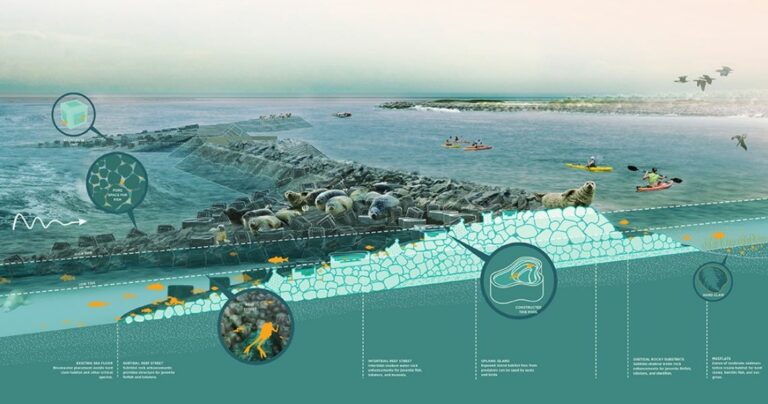 Under the project, the 2,400 linear feet of breakwaters – consisting of eight partially submerged enhanced stone and eco-concrete structures – will reduce the risks of storm waves and combat the long-term erosion of the beach along Conference House Park.
"The Living Breakwaters are a shining example of the state's commitment to build back better after Superstorm Sandy," Governor Hochul said. 
"This innovative approach to resiliency demonstrates New York is leading the way on combatting the effects of climate change and protecting Staten Islanders, their homes and communities, and the island's natural resources.
"As we saw with Superstorm Sandy and most recently with Ida, storms wreak unimaginable havoc and devastate communities quickly. We must invest in projects like this that make New York more resilient and better protect us from the wrath of Mother Nature." 
Using extensive hydrodynamic wave modeling, the breakwaters were designed to reduce waves reaching onshore buildings and roads to below three feet in height, protecting the low-lying coastal community that experienced tragic loss of life when powerful waves knocked homes off their foundation during Superstorm Sandy.
The project was designed to reverse the impacts of decades of erosion of the beach by capturing sediments along the shoreline, allowing the beach to widen over time.