Converting M/V Capt John A. Graham to side cast dredge
MOTAS Dredging Solutions has supplied the concept, detailed design services and hardware of the dredging installation for the conversion of the M/V Capt John A. Graham to a side cast dredge.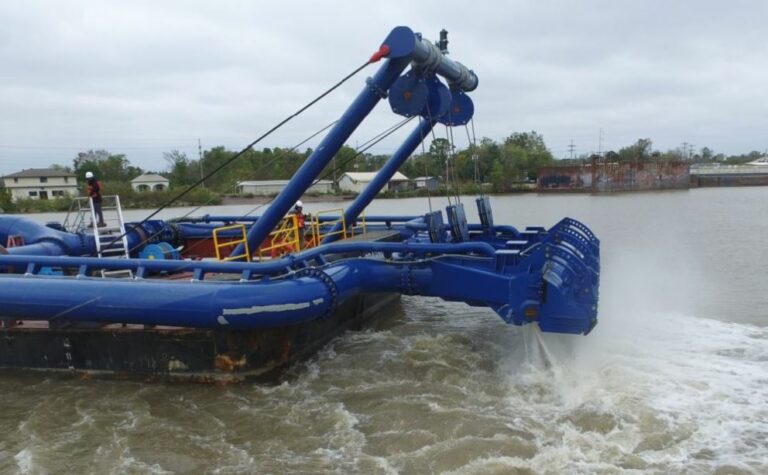 Brice Civil Constructors is the operator of the dredge, which is currently in operation and doing extensive agitation dredging in the Atchafalaya River near Morgan City in the USA.
The concept was to mount a large dredge pump with two drag arms on the deck of an Offshore Supply Vessel. Rather than pumping material into the hold of a hopper dredge, the vessel would pump the material back overboard.
"We supplied the concept & detailed design services and hardware of the dredging installation," MOTAS said.
"Together with our partner Hagler Systems, the whole dredging installation was supplied to the shipyard, assembled and installed onboard."
"We had mechanical challenges we had to overcome" added Brice Civil Constructors, "but we've been pumping now for nearly a year. The average volume we've pumped on a month-to-month basis is about 5 million cubic yards per month."
The cost savings measured per cubic yard of material pumped are significant compared to cutterhead and hopper rates.
Hardware supplied together with their partner Hagler Systems includes:
The dredge pump;
Two dragheads with jetwater provision in the heel and adjustable visor;
The dredge arm;
The Turning glands;
Dredge pipes;
The gantries with several sheave blocks;
The winches;
Hydraulic installation and the Hydraulic Power Pack (HPU);
The pump inspection piece.