The Western Australia Department of Transport (DoT) has commenced site works on the Stage 1 of the Carnarvon One Mile Jetty project.
The DoT recently engaged contractors to undertake the urgent work, required after the jetty suffered significant damage during Tropical Cyclone Seroja and engineers recommended the removal of all but the first 400 metres of the structure.
DoT Director of Coastal Infrastructure Donna West said that Ventia Australia has mobilised specialist equipment to Carnarvon before this week commencing the first phase of the jetty's deconstruction.
"Initially, work will focus on a 400 metre section of the jetty extending from Pier 117, just before the shoreline, and see an excavator used to remove timbers before they are transported across the intertidal zone and along the beach to a sorting area near the Old Prawning Jetty," Ms West said.
"As the project continues to deeper water next month, the excavator will be replaced with a backhoe dredge and a barge will be used transport the timbers to a temporary storage area at Carnarvon Boat Harbour," Ms West added.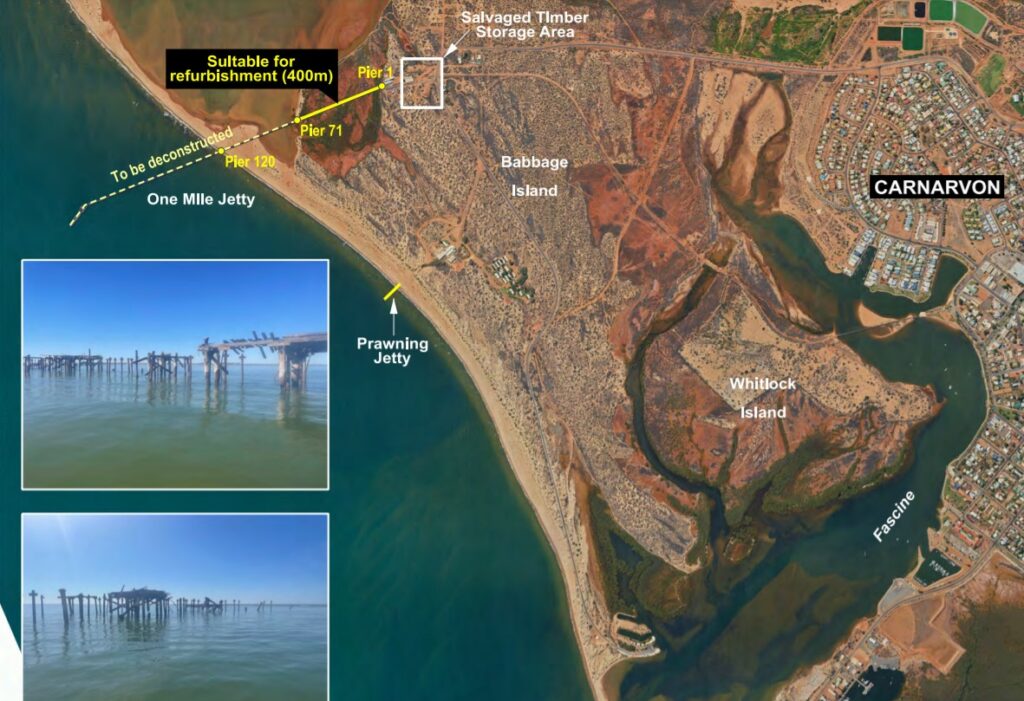 Overall, the $4.2 million Stage 1 works involve emergency deconstruction and salvation of the jetty from the intertidal section onwards (Pier 117 – 245) as well as recovering timbers that are hazards to safe navigation. Salvaged timbers from the jetty may be used in Stage 2 of the project.
Stage 2 will see the first 400 metres of the jetty rebuilt (Piers 1 – 71) with State Government funding of $4.5 million.