Reducing the noise of backhoe dredge Takutai
Over the past few weeks, New Zealand's Port Otago has installed a series of silencers on their backhoe dredge Takutai.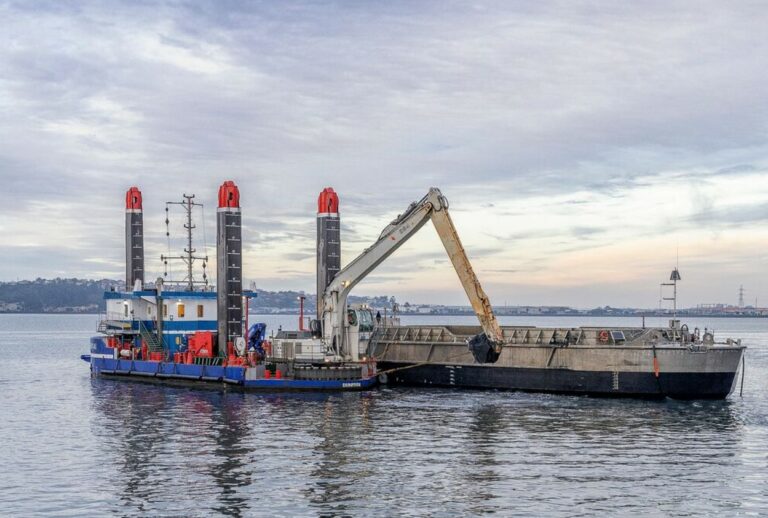 While her accommodation block and operator cabin were well insulated for sound, it was a different story outside. Her rear-mounted digger, hydraulic systems' generator and plant room ventilation fans were all significant sources of noise.
According to Marine Fleet Manager Brandt, the Takutai was very noisy on deck – measured at 93 and 94dBA at two locations on deck – and the highest level of hearing protection (Class 5) was required to go outside during operation.
"We worked with silencer manufacturers NCS Acoustics to determine our options for reducing on-board noise. Three solutions – one for each source of noise – were proposed and actioned. Additional mufflers were added to the excavator engine and the generator, and an in-line silencer was installed within the air intake fan," said Brandt.
Takutai Master Alex added that the difference is amazing. "Even with hearing protection, you could not spend a long period on deck when the digger was operating. Now we can have a conversation with other crew. There's no way you could do that before. It's just so much nicer now."
Testing carried this week – at the same two locations on deck – show the work has been exceptionally effective. The two measurements are now 73 and 82dbA, respectively, which is well below the Worksafe 90dBA threshold and means that hearing protection is no longer required on deck.
"A 10dB reduction means a 90% reduction in actual sound pressure on the ear, and an apparent volume reduction of 50%. The crew are now working in conditions on deck that are half as noisy. That's a great result," concluded Brandt.