Balneário Camboriú, also known as BC, Rio de Janeiro's kid brother or the Dubai of Brazil, is one of the most important cities in the southern part of the country.
The city has a population of about 145.000 inhabitants, yet during the summer months, this can easily exceed 1,000,000. Many Brazilians spend their holidays there because of the beautiful bay that stretches over 5.8 km and the impressive skyline, featuring some of the tallest buildings in Latin America.
Because of these immense skyscrapers and a beach that is only a couple of meters wide at some points, large portions of the beach are in the shadows for the larger part of the day.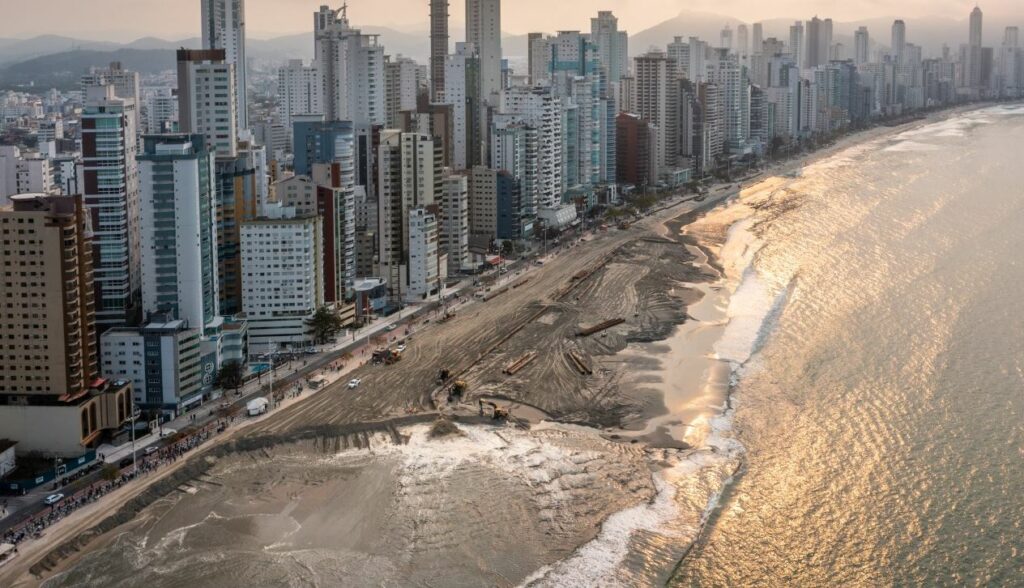 That aside, the city also wanted to counteract on further coastal erosion and at the same time create more space for parks, sports infrastructure and places to eat and drink by enlarging the beach surface.
Which is why the city has decided to enlarge the beach area over the whole length of the bay.
For this project, Jan De Nul has mobilised its trailing suction hopper dredger (TSHD) Galileo Galilei and its multicat DN38.
The dredger with a hopper capacity of 18,000m3 arrived at its very first project in August 2021.
What is so special about this vessel and makes it unique in Jan De Nul's hopper fleet, is that it actually consists of two separate hoppers. This means the dredged material can be divided equally amongst both hoppers, thus optimising control over the vessel's load and draught.
Upon arrival, Galileo Galilei went straight to work, dredging sand at 15 km from the coast and bringing it into the bay, where the sand was pumped onto the beach through a sinker line.

In order to restore the 5.8 km beach and expanding it from its current width of 25m to 70m, Jan De Nul has been pumping sand for about nine weeks straight.
This was perfectly timed to be able to receive all the tourists in December 2021, at the start of the Brazilian summer season, said Jan De Nul.