Dredge Liberty Island picks up Avon beach nourishment work
Great Lakes Dredge & Dock Co. has announced that the hopper dredge Liberty Island arrived in Dare County on the morning of Friday, July 8, 2022.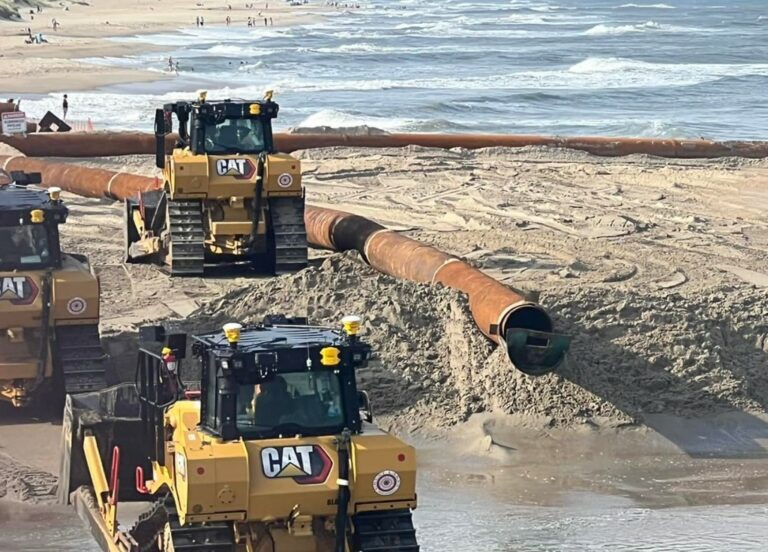 TSHD Liberty Island is picking up the Avon beach nourishment project while the Ellis Island continues working to perform beach nourishment in Buxton.
Following a series of required state and federal tests and inspections, the dredge started pumping sand along the shoreline in Avon from a landing point located approximately 500 feet north of Avon Pier, said GLDD.
The contractor plans to proceed heading south for 800 feet through Avon Pier and then reposition the pipe in order to pump sand toward the northern project boundary, which is located near Due East Road.
With the flexibility of having both the Ellis Island and the Liberty Island on site in Dare County, Great Lakes Dredge & Dock Co. may switch dredge assignments between the Buxton and Avon schemes to achieve optimal production for each project.
The two beach nourishment projects that are being constructed on Hatteras Island cover approximately 2.5 miles of shoreline in Avon and approximately 2.9 miles of shoreline in Buxton.
This includes dredging and placing approx. 2.2 cubic yards of sand on the shoreline — 1 million cubic yards for the Avon nourishment and 1.2 million cubic yards for the Buxton.