Great Lakes Dredge and Dock Co. has completed the 1 million cubic yard beach nourishment project in Avon, North Carolina.
As reported, the last load of sand was delivered by the hopper dredge Liberty Island at 11 p.m. on Tuesday, July 26, 2022, between Yucca Street and Pampas Drive.
The project included nourishing approximately 2.5 miles of oceanfront from Due East Road to the southernmost boundary of Avon and constructing a new frontal dune (6 feet above the dry-sand beach) south of the Avon Pier.
The dredge Ellis Island delivered the first load of sand in Avon at 1:40 p.m. on Sunday, June 19, 2022. Through the strategic use of two dredges, GLDD completed the project in 38 days, including an 8-day pause from June 30, 2022, through July 7, 2022.
After the last load of sand was delivered onto the beach, the Liberty Island headed out to Norfolk, Virginia, for repairs, maintenance and refueling. The dredge is expected to return to Dare County to resume beach nourishment operations in Buxton today, July 28, or Friday, July 29, 2022.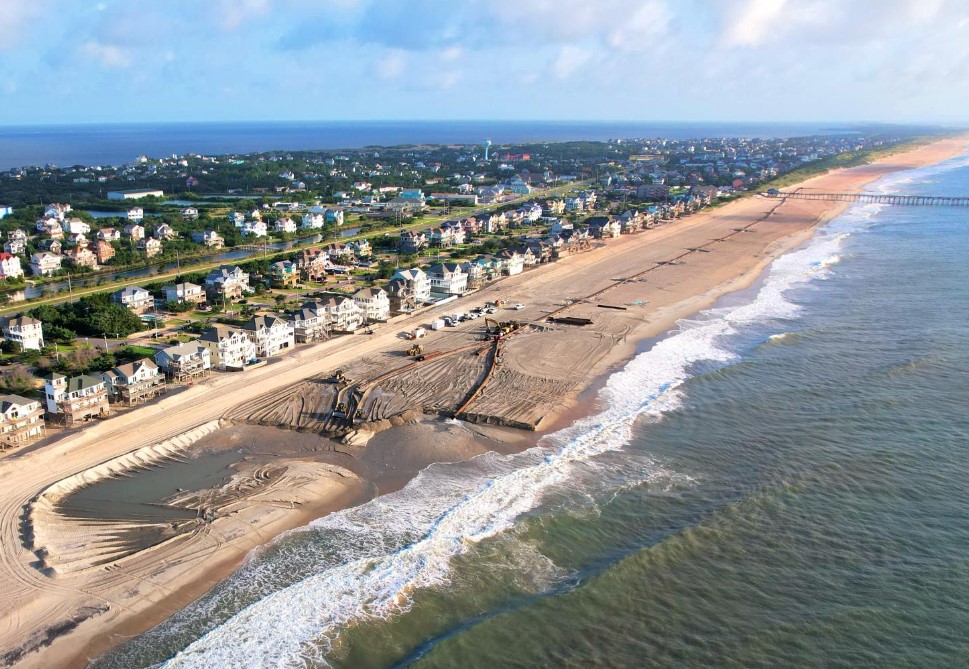 According to GLDD, equipment demobilization began immediately after the last load of nourishment sand was placed on the beach and is ongoing.
The newly nourished beach was graded, smoothed and reopened to the public on the morning of Wednesday, July 27, 2022.
Equipment and shore pipes will be transported through ORV Ramp 38 and demobilized out of Avon over the next two weeks.
Photo: Coastal Science & Engineering