Spotlight on Damen's new Marine Aggregate Dredger class
Although marine aggregates are increasingly in demand given the scarcity of land-based resources, the marine aggregates dredging fleet worldwide is largely an aging one, with a significant portion of vessels over 30 years old.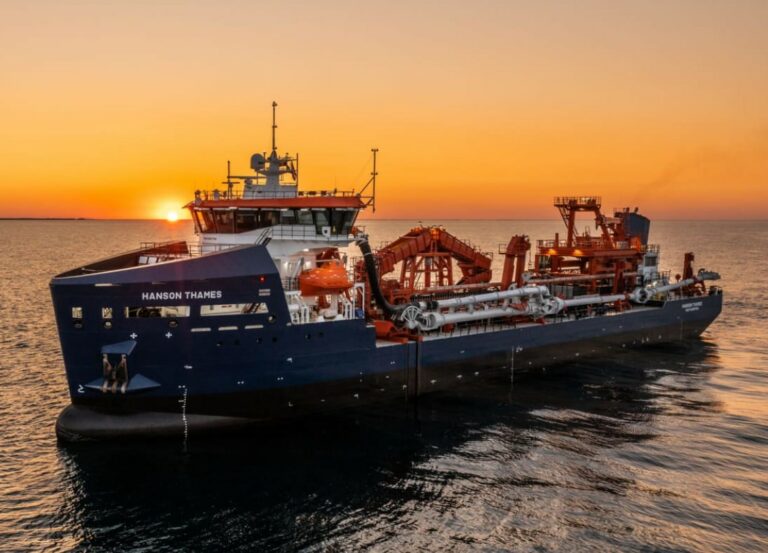 With its decades of experience building dredgers of all types, Damen decided to explore the aggregates market to see if it could develop a tailor-made, future-proof dredger series, specifically for this sector.
Recently, the company launched their first Damen Marine Aggregate Dredger (MAD) 3500, the 'Cemex Go Innovation'.
In addition to the MAD 3500, Damen has also launched the MAD 6400. This vessel can dredge up to 60 metres depth and has a hopper capacity of 5,600 m3 and a trailing suction hopper pipe of 750 millimeters.
Olivier Marcus, Product Director Dredging: "The marine aggregates business is served by a very old fleet, particularly in the UK. For many years Damen's repair yards in the Netherlands have been performing the maintenance on these dredgers, so we have the expertise needed to build a new generation of vessels that are optimised for the marine aggregates market. We set out to make a dredger that is safer, more efficient and sustainable, and indeed, vessels that offer the lowest cost per tonne of dredged material."
For the full Damen 'MAD world' article, please click here!