J.E. McAmis wins Tillamook South Jetty deal
J.E. McAmis has won a $57.9M contract through the U.S. Army Corps of Engineers Portland District to perform repairs on the Tillamook South Jetty in Oregon.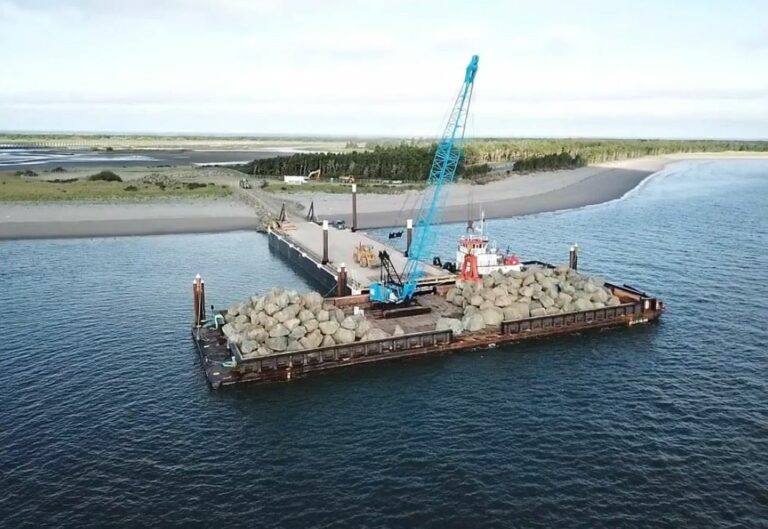 Proposed repairs to the south jetty include rebuilding the jetty head with an approximate 100-foot cap and approximately 1,350 feet of the jetty trunk onto an existing relic structure.
The relic structure is a mound of displaced stones from the original jetty formed underwater.
The south jetty head section will be constructed with a 40-foot crest width and 1V:2.5H side slopes both channel-side and ocean-side, and a crest elevation of +18 feet NAVD88.
The south jetty trunk sections will be constructed with a 30-foot crest width, +18 feet NAVD88 crest elevation, and varying side slopes depending upon location, from 1V:2.5H along the ocean-side and 1V:2.5H to 1V:1.5H along the channel-side.
The estimated stone volume required for the south jetty repairs is approximately 9,900 cubic yards (CY) of 180 pounds per cubic foot (pcf) stone, 15,800 CY of 175 pcf stone, and 3,200 CY of 167 pcf stone.
According to J.E. McAmis Vice President, Scott Vandegrift, since 2015 J.E. McAmis has been awarded seven major jetty projects for the Army Corps valued at more than $275M and requiring more than 800,000 tons of jetty stone.