Dare County, in partnership with EJE Dredging Service, hosted a community day and christening ceremony in Wanchese on October 13 to formally honor Miss Katie, the new 156-foot-long shallow-draft hopper dredger.
The vessel will be tasked with helping to address the shoaling issues that occur within waterways throughout the region.
Miss Katie – which is the result of a yearslong collaboration between Dare County officials and EJE Dredging Service, the company that owns the dredger – departed from Conrad Shipyard in Morgan City, Louisiana, on August 13, 2022, and on August 19, 2022, she officially arrived in Wanchese Harbor, which will serve as the dredge's homeport.
Following the community day, the christening ceremony commenced, featuring remarks made by several key stakeholders, including Dare County Board of Commissioners Chairman Bob Woodard, Dare County Commissioner and Oregon Inlet Task Force Chairman Jim Tobin, and EJE Dredging Service CEO/Managing Partner Jordan Hennessy – as well as North Carolina State Senator Norman Sanderson, North Carolina Marine Industrial Park Executive Director Bob Peele and U.S. Senator Richard Burr.
Funding for the project came from a public-private partnership with the state of North Carolina, in which the legislature allocated $15 million from the Shallow Draft Navigation Channel Dredging and Aquatic Weed Fund for the purchase of the dredge, which will play an integral role in keeping Dare County waterways safe and accessible.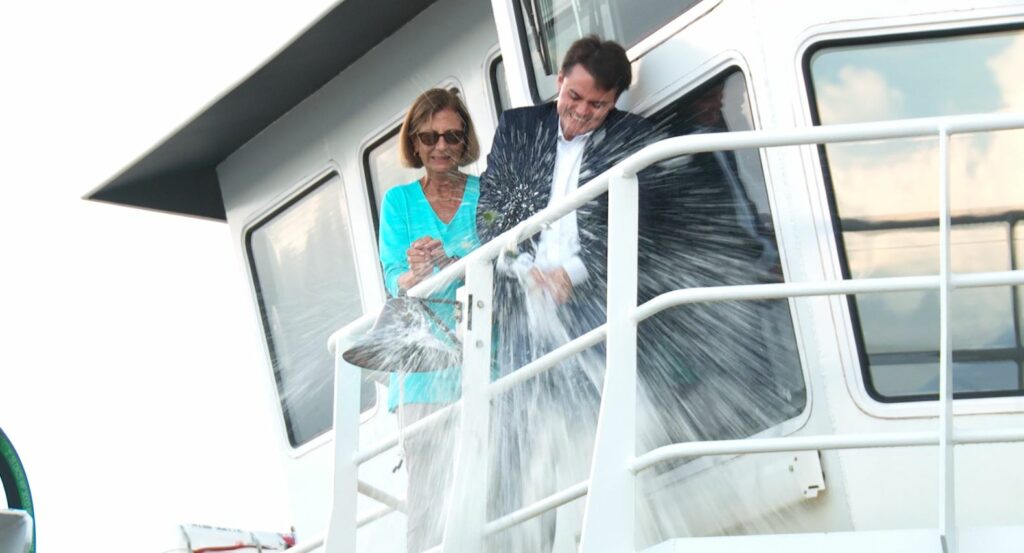 Following the remarks that were presented to kick off the christening ceremony, a bottle of champagne was broken against a deck rail on Miss Katie by Brooke Burr, wife of U.S. Senator Richard Burr, as well as Hennessy to bless the vessel with good luck and safe travels as she and her crew work to tackle the significant shoaling that occurs in area waterways – and to ultimately help keep them open and accessible for both commercial and recreational vessels in Dare County.