Royal IHC hands over another state-of-the-art dredger
Following successful sea trials in mid-January, Royal IHC delivered the new trailing suction hopper dredger TEUNIS HUIBERTUS to contractor Gebr. van der Lee on 1 February 2023.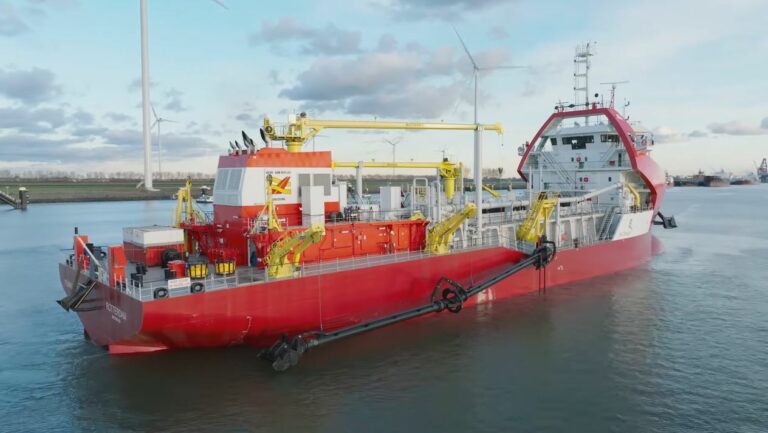 The newbuild, a Beagle® 4 hopper dredger, belongs to the series of standard medium-sized TSHDs from IHC which are equipped with the latest innovations and state-of-the-art dredging equipment.
According to Ronald van Son, Director Dredging Custom Vessels of IHC Dredging, the delivery of the Beagle® 4 marks the start of a new phase of the company's collaboration with Gebr. van der Lee.
"This assignment shows that our investments in the development of efficient and sustainable vessels are of value to our customers," said Ronald van Son. "With the Beagle® 4, we offer Gebr. van der Lee the opportunity to meet a growing demand for cleaner ships from their clients. This is an important transition for which we are delighted to use our knowledge and experience."
The new dredger will significantly expand the dredging capacity of Gebr. van der Lee. "The TEUNIS HUIBERTUS is a state-of-the-art trailing suction hopper dredger with a hopper volume of 4,000 m3 with which we will optimally implement our current dredging and sand mining projects," explained General Director Eddy van der Lee. "Thanks to the successful collaboration with Royal IHC, we have now taken the next step in expanding and making our dredging equipment more sustainable for the Dutch dredging market."
With a best-in-class fuel efficiency, adequate low greenhouse gas emissions and an exhaust gas treatment to meet the IMO Tier III emission standards, the TEUNIS HUIBERTUS scores well on the environmental cost indicator, a critical success factor for winning tenders.