Protests against Gulhifalhu land reclamation underway
"The dredger Oranje is not welcome in the Maldives." With this text, activists of the Save Maldives Campaign express their opposition to a major project for which Boskalis has been hired.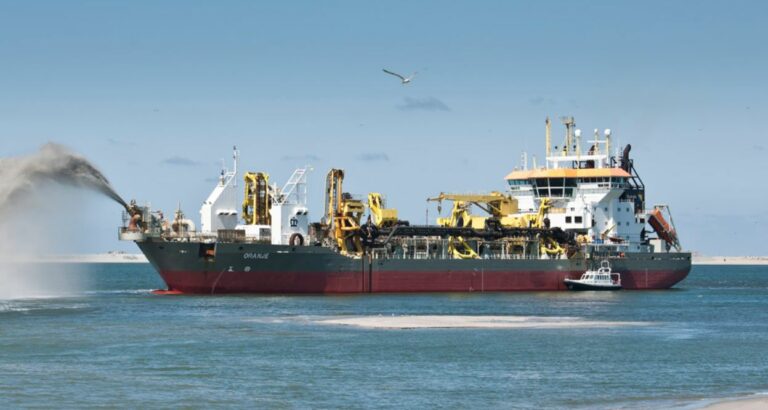 The giant hopper dredger arrived in the Maldives on February 21 to dredge the Male area – a project related to the further development of Gulhifalhu.
The work, which is located approximately four kilometers from the capital Male, is part of the Ministry of National Planning, Housing and Infrastructure's strategic plan to improve and develop the port infrastructure, and will serve as a climate adaptive solution, making this part of the Maldives resilient to rising sea levels.
The contract carries a value of approximately EUR 120 million.
But according to the Save Maldives Campaign, the project has little to do with climate adaptation.
"24.5 million cubic meters of sand are being extracted from the seabed in an ecologically sensitive area," said Humay Abdulghaphor of the action group.
The group argues that dredging will be so detrimental to marine life, coral reefs and fishermen's lifestyles that it will make residents more vulnerable to the impacts of climate change.
Abdulghavoor is trying to stop Boskalis dredging through a lawsuit.
Environmental impact assessment
To manage the environmental impacts of the dredging and land reclamation activities, a comprehensive environmental impact assessment was conducted in accordance with the highest international standards, the Dutch dredging company said.
Also, they are implementing various measures to mitigate possible adverse effects, including coral relocation and measures to limit the spreading of sediments in the water in combination with regular monitoring of the water quality.
Over the past two decades, Boskalis has successfully executed several climate-adaptive dredging and land reclamation projects in the Maldives, including reconstruction work on the islands of Vilufushi and Villingili following the devastating tsunami in late 2004 and the initial development of Gulhifalhu in 2010 and 2012.
In addition, Boskalis was responsible for the successful execution of the first phase of the expansion of Gulhifalhu in 2019 and 2020.