Jan De Nul's TSHD Galileo Galilei proves success in Guyana
In just under eight months, Jan De Nul Group's Galileo Galilei – hailed as the largest dredger ever arrived on the Demerara River – has delivered on its mission.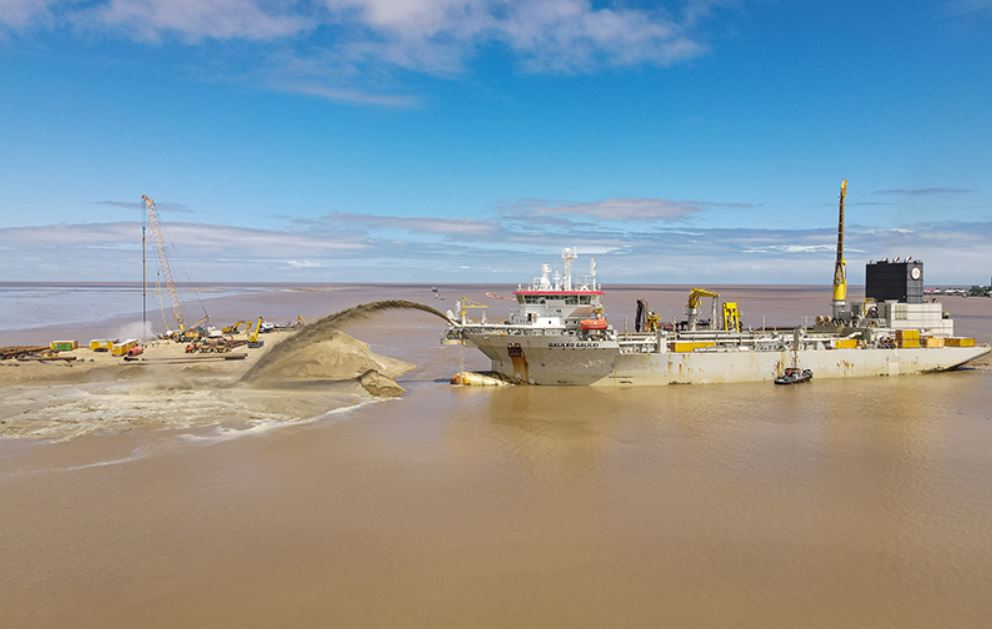 According to a press release from Vreed-en-Hoop Shorebase Inc. (VEHSI), the one of the world's largest hopper dredgers was deployed to the project site last year.
Under the Port of Vreed-en-Hoop project, the giant dredger cleared the existing area and began the process of adding reclaimed material for the creation of an artificial island, where the new terminal will be situated.
During its deployment in Guyana, it helped maintain the channel, and it has added more than 44 acres of land to Guyana's coastline.
So far, VESHI has completed the 200-metre quay wall construction, and works are now focused on fitting fenders and bollards, excavation in front of the quay wall, pavement, electrical and lighting, buildings and utilities.
The project has, at this point, advanced to where the facility is now connected by a road to the coastline and the pace of construction is continuing on a 24-hours basis.
The current shore base construction will see the first phase of 10 acres, made operational by December 2023, with additional acreage delivered by second quarter 2024.
Director of VEHSI (a joint venture between NRG Holdings Inc. and Jan De Nul), Nicholas Deygoo-Boyer has explained that "once fully realised, the Port of Vreed-en-Hoop will tie into the country's vision to expand Guyana's development."