Senator Heitkamp: Boost for Devils Lake Flood Protection Plans
North Dakota Senator, Heidi Heitkamp, has announced that a new bipartisan water infrastructure bill includes a provision to provide federal funding for long-term maintenance and operation costs related to the permanent levee protecting the City of Devils Lake and the surrounding area from flood waters.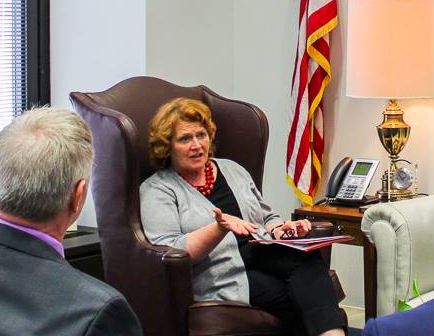 From 1993 to 2011, Devils Lake rose more than 30 feet and quadrupled in size, highlighting the urgent need to maintain the levee protecting the city and nearby residents.
Under Heitkamp's provision, the federal government would cover 75 percent of the embankment's associated operation and maintenance costs, preventing the city from needing to cover all these costs with local tax dollars.
"One of my top priorities in the U.S. Senate has been to protect North Dakota communities from future floods while also strengthening community-based disaster response and resiliency," said Heitkamp. "The Lake Region has experienced decades of challenges related to Devils Lake flooding, and the federal government must provide adequate resources to make sure flood protections remain strong and viable to keep families and communities safe."
"Due to the long-term, ongoing flood threat in the Devils Lake Basin, the Army Corps of Engineers has repeatedly raised the embankment and made necessary improvements to strengthen it. But for years, the City of Devils Lake has been requesting improved certainty regarding the embankment's maintenance funding," added Dick Johnson, Devils Lake Mayor.
In February, Heitkamp wrote a letter to the leaders of the Senate Environment and Public Works Committee urging them to prioritize long-term maintenance costs of the Devils Lake levee in the upcoming water resources bill.
The Senator requested that the federal government assist the community in covering the extraordinary burden of long-term maintenance, particularly as the project built under emergency conditions and is now permanent.
The embankment has been raised multiple times in response to rising lake levels and is now 12 miles long with eight pump stations.
[mappress mapid="25114″]