Protecting Flaxmill Bay and Cooks Beach
A combination of king tides and the extreme weather event over the weekend has resulted in significant erosion at Flaxmill Bay and Cooks Beach, Thames Coromandel District Council said in their latest release.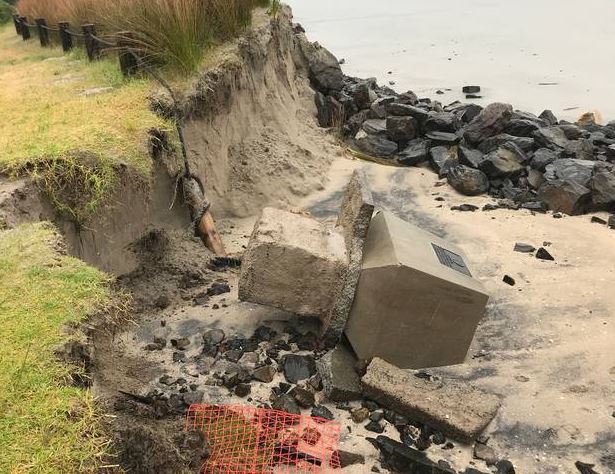 "Emergency works to protect and stabilize the embankment at this location will start this week," said Area Manager North, Allan Tiplady.
The weather event at the weekend also saw the memorial cairn at Cooks Beach falling off the reserve and onto the beach due to more erosion occurring.
"The cairn is being recovered today by our contractor for temporary storage at a safe location," added Mr Tiplady.
The erosion at Cooks Beach has been managed through the adaptation of a soft engineering approach, for example, beach push-up, dune restoration and planting. In the past few months extreme weather events, in combination with king tides, has severely tested these coastal protection works.
"We're working on a detailed assessment of the erosion, particularly in regards to any risk to the road which is about 6-8m away from the erosion at this section of Cooks Beach," said Mr Tiplady. "Our coastal engineer and coastal scientists will be visiting the site to discuss more appropriate and durable options to protect our infrastructure, reserves and  heritage."
Appropriate hard coastal protection structures in combination with soft engineering options will be considered as management options for Cooks Beach and the nearby Purangi Reserve, the council said.