Beneficial Use of Dredged Sediment in the Great Lakes
The U.S. Army Corps of Engineers, Buffalo District began implementing an innovative project for aquatic ecosystem restoration along the Niagara River in summer 2018 by using a resource that is abundantly available to the agency: dredged sediment.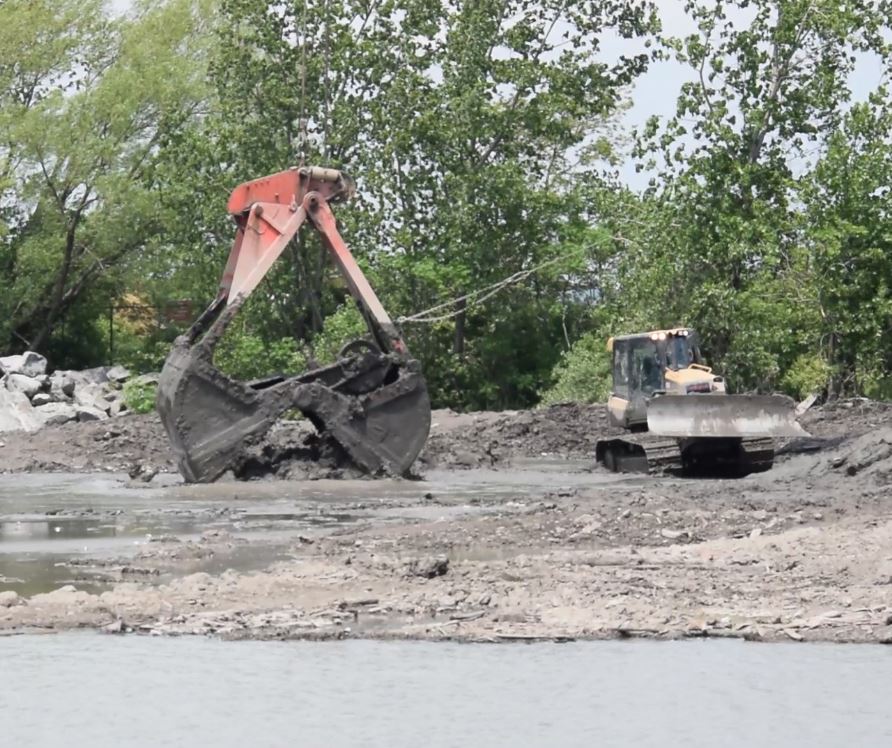 According to the Corps, the project will result in restoration of approximately 10 acres of coastal wetland habitat within Unity Island, and provide access for fish and wildlife to move freely between the Niagara River and the waterbodies of Unity Island.
The Corps of Engineers implemented this project through Section 204 of the Continuing Authorities Program, a prime example of a much larger campaign for beneficial use of material in the Great Lakes region.
USACE dredged sediment from the Buffalo Harbor federal navigation channel in support of commercial navigation, and then carefully transported and placed the material in a pond at Unity Island, an urban park in the City of Buffalo; they used approximately 50,000 cubic yards of material to shallow the pond to depths of six feet or less in some areas.
The project also involved the removal of a portion of a constructed dike that separated the pond from the Niagara River to increase water connectivity and restore access for aquatic species.
"This project will restore a habitat type that is important to a healthy, functioning river system. These actions will help delist the Niagara River Area of Concern," said Andrew Hannes, U.S. Army Corps of Engineers, Biologist.
The City of Buffalo, which owns and maintains the park, has been a key partner and sponsor for the project and helped improve the design to meet the needs of the community. The project will create a more natural setting for park users, with the added bonus of improving public safety by deterring prohibited swimming.
"This is a continuation of the collaborative and successful relationship between City of Buffalo Mayor Byron Brown, the City of Buffalo, and the Corps of Engineers regarding several shoreline projects both recently-completed and ongoing," said Andy Rabb, Deputy Commissioner for Parks and Recreation for the City of Buffalo.
"Collaboration has been essential throughout the planning of the project. Coordination between State and Federal sediment experts has been paramount for a successful outcome," said Sheila Hint, U.S. Army Corps of Engineers, Project Manager.
The project will be completed in two phases beginning in 2018. Phase 1 consists of the dredging and placement of the material to meet design requirements. Phase 2 will establish submerged and emergent plant species in the pond, include installation of habitat logs, and monitoring of the overall project performance. Material placement, initial plantings and construction of the stone dike opening have been completed. Additional plantings and monitoring will continue through 2020.
The Unity Island project featuring beneficial use of dredged materials is the first of its kind along the Great Lakes and serves as a successful example to inspire future projects.