$12.45 Million for Buffalo Harbor Improvements
Federal funding of $12.455 million that will be used for improvements to the Buffalo Harbor was announced Monday by Congressman Brian Higgins and the Army Corps in Buffalo, NY.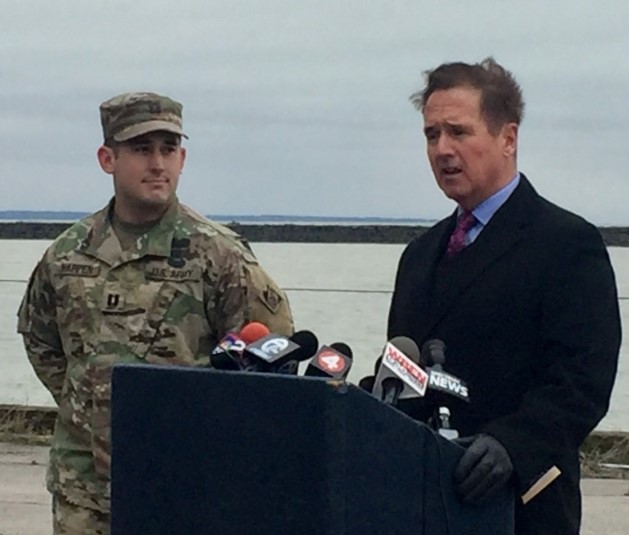 "Advancing a vibrant waterfront and realizing the community benefits that go along with it requires due diligence in protection of the water's edge and maintenance of the waterways for safe commercial navigation, recreational boating and water sports," said Congressman Higgins.
He also added that the most of these funds will be used to repair the north and south breakwaters.
"This is a critical time for investments in our nation's infrastructure," said LTC Jason Toth, USACE Buffalo District Commander. "Funding ensures safe and reliable navigation in the harbor that can directly relate to economic growth, quality of life, and its environmental health."
The North Breakwater constructed in the early 1900's, is just over 2,200 feet long and is constructed with a concrete shell filled with stone, founded on semi-submerged concrete blocks resting on a timber crib substructure.
It sits off the tip of the northern portion of the Outer Harbor closest to the U.S. Coast Guard station providing a protective barrier to the water's edge closest to downtown including the area around Erie Basin Marina.
The North Breakwater requires extensive repairs be made to reestablish its structural integrity due to little long-term maintenance and damages sustained from years of Lake Erie ice and wave action. $6.1 million will be dedicated to North Breakwater repair.
The South Breakwater in Buffalo Harbor is 10,200 feet long and protects the southerly portion of the outer harbor including Buffalo Harbor State Park, the Small Boat Harbor and a private marina.
The southern portion of this structure, originally constructed in the late 1800s, consists of a timber crib with a concrete cap and armor stone protection on the lakeside. A period of major investment in repair of this structure concluded in the 1950's and only a small amount of work has been performed on it since then.
Situated at the east end of Lake Erie, this breakwater is routinely exposed to the some of the most severe wave and ice conditions on the Great Lakes and has caused a 1,000-foot section to breakdown. $3.5 million will be invested in South Breakwater repair.
The confined disposal facility (CDF) #4, constructed by the Corps for the placement of sediment, is located at the south entrance of the channel adjacent to the former Bethlehem Steel site.  Repairs to sections are required to ensure it operates as intended. $1.5 million will be dedicated toward this effort.