Post Florence Renourishment Works Set for March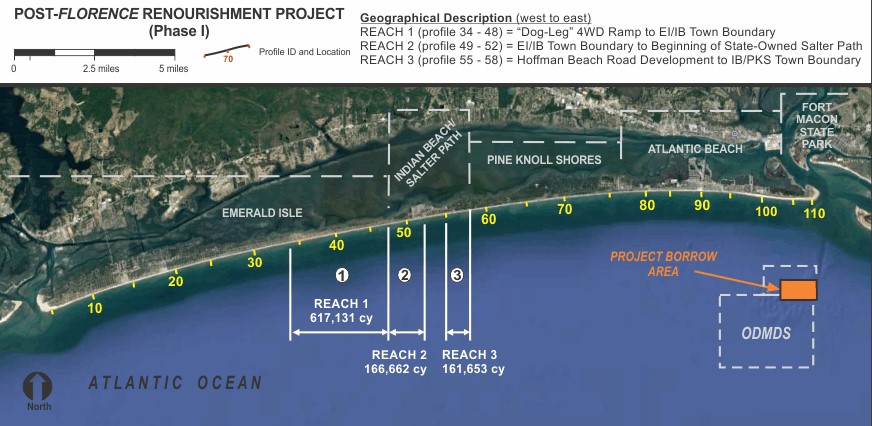 Great Lakes Dredge & Dock will begin mobilizing land- and water-based pipe, heavy equipment, personnel, etc. towards the latter parts of February, and although the schedule is tentative, the Post Florence Renourishment Project could begin the first week of March, reports the Carteret County Shore Protection Office.
The Post Florence scheme will utilize 945,446 cubic yards of sand obtained from the Offshore Dredged Material Disposal Site (ODMDS) associated with Morehead City Federal Navigation Project.
According to the County, Emerald Isle, Indian Beach and the unincorporated area of Salter Path will receive 617,131 cy, 271,905 cy, and 56,410 cy, respectively along 5.2 miles of shorelines in three discrete reaches.
The plans call for the project to be conducted between the March 1 to April 30, 2019, with the construction window established to limit impacts to biological resources.
The County officials also added that the ocean-certified, self-contained hopper dredges Liberty Island and Ellis Island will be employed for the project.
GLDD will utilize the area near the "Dog Leg" 4WD Ramp in Emerald Isle as their main equipment staging facility and point of beach access for heavy equipment.