CCCC Expands Dredging Fleet with Two TSHDs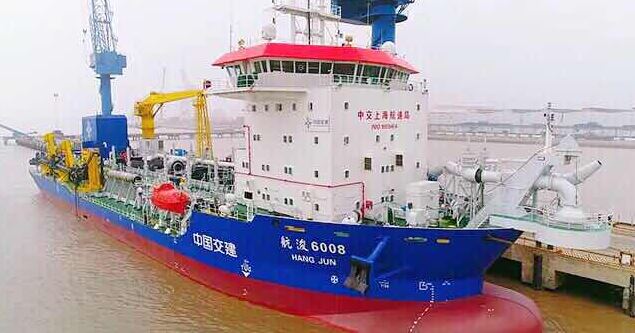 Two trailing suction hopper dredgers (TSHDs), Hang Jun 6008 and 6009, equipped with the most automatic dredging control system in the world, were recently delivered in Qidong, Jiangsu Province, China Communications Construction Company (CCCC) announced today. 
The twin TSHDs, which are invested, jointly designed and manufactured by CCCC, feature automatic emission of low density, automatic speed control, dredging trace displaying system, etc.
According to CCCC, these vessels can work intelligently in different working conditions, improving the operation efficiency by 15% compared with manual operation.
The successful delivery of such two dredgers fills the blank of designing and manufacturing the intelligent self-propelled drag suction dredger in China, contributing to the development of the Belt and Road Initiative and Yangtze River Delta, the Chinese dredging giant said in its release.
The Belt and Road Initiative is a development strategy adopted by the Chinese Government, involving infrastructure development and investments in 152 countries and international organizations in Europe, Asia, Middle East, Latin America and Africa.
"Belt" refers to the overland routes for road and rail transportation, called "the Silk Road Economic Belt", and "Road" refers to the sea routes, or the 21st Century Maritime Silk Road.