New planning application for the Oxford scheme
The Environment Agency is working in partnership on a major new scheme to reduce flood risk in Oxford.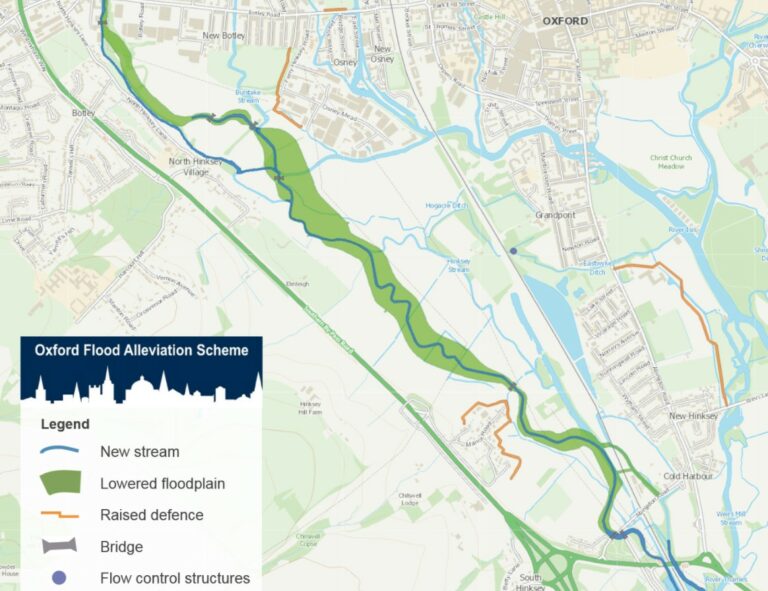 The Oxford Flood Alleviation Scheme will cost around £150 million and is one of the biggest flood schemes in the country.
The scheme will create a new stream with wetland wildlife corridor, running through the existing floodplain to the west of Oxford.
This will create more space for floodwater away from built-up areas, reducing flood risk in Oxford and surrounding areas for many decades to come.
The scheme will be approximately 5km long. It begins north of Botley Road and ends south of the A423 near Kennington, where the new stream joins the River Thames.
The Environment Agency will be submitting a new planning application for the Oxford Flood Alleviation Scheme in late 2021.
The EA had submitted a planning application in March 2018, but withdrew it when Oxfordshire County Council discovered that the A423 Kennington railway bridge (Southern bypass) needs replacing.
The bridge is in the south of the scheme area and is essential to the scheme as floodwater will need to pass underneath it. When it was discovered the bridge needed replacing the Environment Agency took the opportunity to work with the county council to coordinate both projects.
Now that the bridge needs replacing it can be designed from the outset for its role in the flood scheme. Replacement of the bridge alongside the scheme provides an opportunity to design and build the bridge and the scheme together reducing disruption and ensuring the best solution for Oxford.
For the next two weeks, from 17-31 May, the EA will be answering questions from the public on the site, with answers provided daily from the Project Team.