The £350 million Aberdeen South Harbour expansion scheme — the largest marine infrastructure project currently underway in the UK — is entering its final stage with only a couple of months to go until the work is done.
When full finished by the end of 2021, the Dunnottar Quay is to be the 400 meter long east quay with Crathes Quay to be the 175 meter long south quay. Balmoral Quay, the west quay, will be 300 meters long and Castlegate Quay, the north quay, will be 540 meters long.
According to the latest update from the Aberdeen Harbour Board, preparations are underway for more caissons to arrive at the site; these caissons will join the two currently in place for the South Pier.
They also added that considerable progress has been made in the last month on the South Breakwater, with the underwater length reaching approximately 600 metres and approximately 180m now built above water.
Work on the Crown Wall is continuing, and the infill work behind the caissons on the North Quay is nearly complete.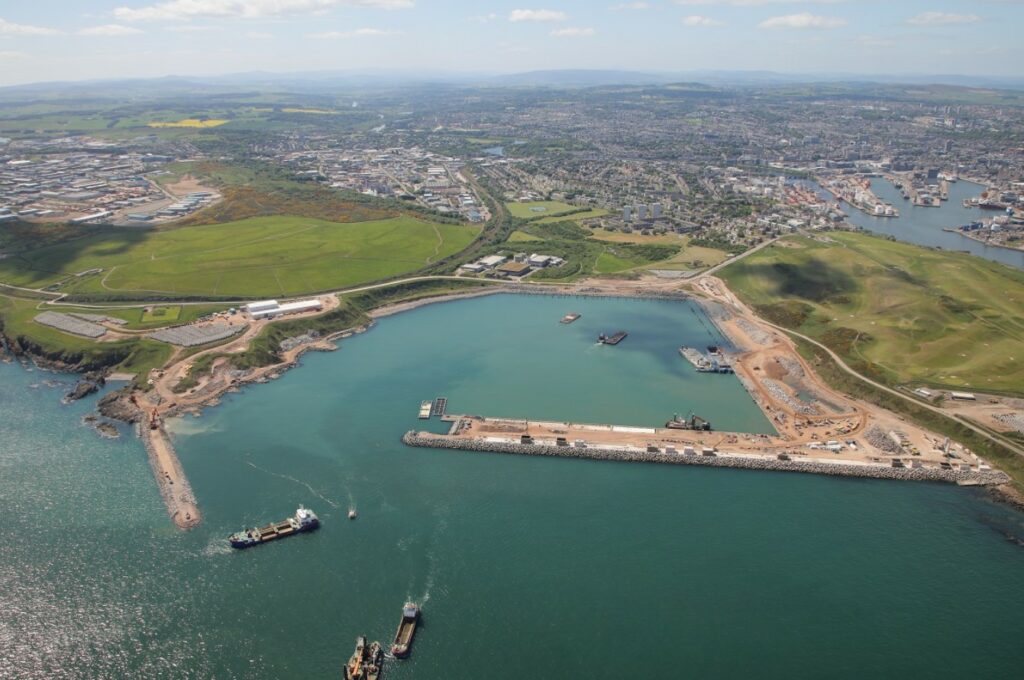 The officials have also released the Goliath Bucket Cam video. The Goliath — world's largest backhoe dredger — has been involved in the Aberdeen Harbour Expansion Project for several years…watch it in action!
What to expect in the month ahead
Continued work on the South Breakwater, including the import of rock and core material, and placement of accropodes;
Concrete pours for the Crown Wall;
Arrival of the final caissons for the South Pier;
Installation works for the 3km water main, connecting the expanded site to the existing Scottish Water supply network and Torry Quay.
Photo: Aberdeen Harbour Board