Last week, the Central Dredging Association (CEDA), in close collaboration with their corporate members, organised the 'CEDA Europort Innovation Event'.
During two afternoons 24 companies presented their innovations in 15-minutes-pitch talks with one of the presentations covering innovation in trailer suction hopper dredger design.
Ensuring dredging equipment is located away from areas associated with risk is a significant consideration for the first trailer suction hopper dredger to be built featuring a hydrogen fuel cell as part of its power plant.
The 70m length ship, which will be homeported at Sète in the south of France on delivery by Brittany-based shipbuilder Piriou in Q3, 2023, has been designed in collaboration with LMG Marin.
Fuel cell integration is expected to save up to 20% in the amount of fuel oil consumed by the 1500m3 dredger, which will be able to pump sand from depths of up to 32m.
An artist's impression of the new ship formed part of a presentation from Jan Willem de Wit, Managing Director at Holland Marine Technologies covering innovation in trailer suction hopper dredger design as part of his 'CEDA Pitch Talk' at Europort 2021, Rotterdam on 3 November. HollandMT is a key dredge systems supplier for the project.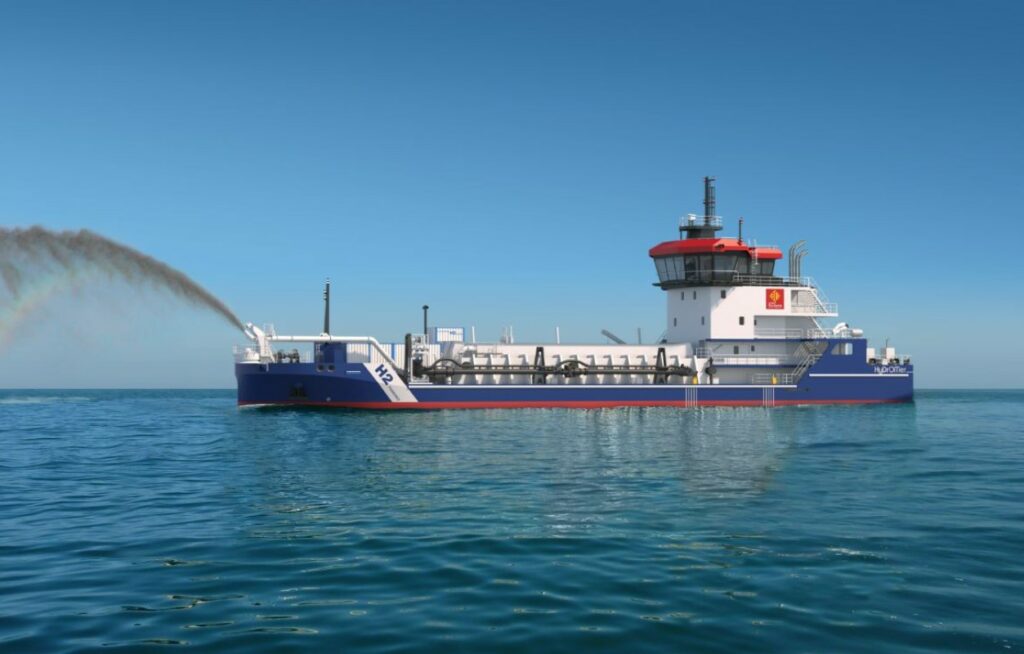 "As with any ship, it is necessary to locate all of the dredging equipment away from any area posing an explosion risk, but considerations where hydrogen as a new alternative marine fuel require special attention," he said.
Safety was also the focus as de Wit acknowledged the way the vessel Yed Prior has been operating beyond expectations one year after being converted from container ship to 5300m3 sand & gravel TSHD by Royal Niestern Sander for owner Spaansen Marine Aggregates.
The vessel's distinguishing features include innovative moon-shaped gantries with all-electric drag-arm winches from HollandMT, developed to limit motion for a ship providing efficient dredging at water depths of 40m.
According to de Wit, Yed Prior has been making exceptional use of its 2000 kW submerged dredge-pumps over the period, with the moon-shaped gantry profile contributing to vessel stability making it possible to increase vessel payload from 8,000 tonnes to 10,500 tonnes.