Combined innovations improve dredging efficiency
Two series of Trailing Suction Hopper Dredgers (TSHD's) introduced by Damen Shipyards incorporate a variety of innovations that enable more efficient and sustainable operation. New technologies take safety, durability and ease of maintenance of the vessels to a next level.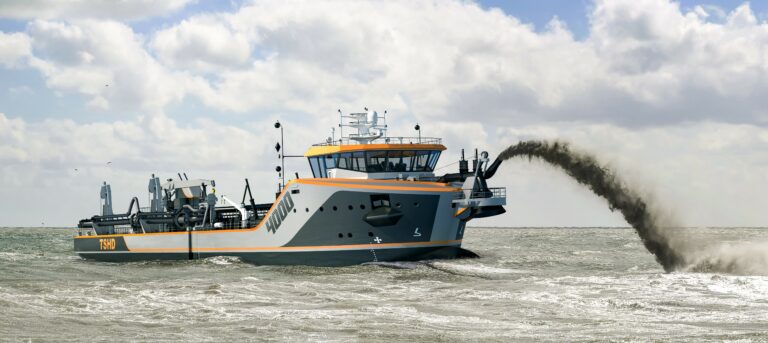 The Port & Maintenance series are optimized for efficient dredging in ports and confined areas with maximum silt performance.  The Multi-purpose series are both suited for dredging operations further off the coast and capital dredging works at optimal efficiency
Sturdy dredgers that perform excellently enable swift operations with a happy crew. Such tools also improve efficiency of the job in terms of time and cost. Improving on operator experience has been the focus of the engineers at Damen in the development of new dredger designs. Extensive and in-depth dredging expertise is applied in the development of Trailing Suction Hopper Dredgers (TSHD) from the user's perspective. This includes the lay-out and position of accommodation. Crew lives aboard in comfort at the most silent places on the vessel, while routes from the working area towards the mess and the cabins provide for lockers to leave working clothing on the way in. Hopper capacities range from 800 m³ to 5,000 m³. Efficient in operation and practical in maintenance, they are the most advanced and sustainable TSHDs to have ever been built by Damen. Designs are standardised to assure build quality and performance, yet customisable for specific operational requirements. Increased cost efficiency both regarding capital expenditure as well as operational expense, marks a shift in the balance between owning a dredger and hiring a dredging company. The flexibility of ownership adds to that.
Series
The solutions that the design and development team provided in combination with valuable client feedback, have resulted into a whole new series of TSHD's. The new self-propelled range of TSHD's stretches from a load capacity of 800 m³ up to 5,000 m³. Identified by their purpose, the smaller dredgers from 800 up to 2,800 m³ are categorized as Port & Maintenance TSHD's, while the bigger vessels from 2,200 up to 5,000 m³ product hold capacity are called the Multi-Purpose TSHD's.
Larger vessels designed for harvesting aggregates from the sea bottom further off the coast, categorised as Marine Aggregate Dredgers (MAD), are customized to operational demands of the dredging company. Standardised designs and components are always the starting point. Two MAD vessels are already in operation with hold capacities of 3,000 m³ and 8,000 m³.
Efficient capacity
Increasing hold capacity is a logical adaptation to ,maximise silt dredging performance, as the vessel can take more soil before needs to be unloaded. Transfers to the offloading site, whether it is through rainbowing at the beach, dumping at underwater constructions or offloading the soil for onshore use, take time. More capacity means longer suction operation and less transfers, increasing efficiency.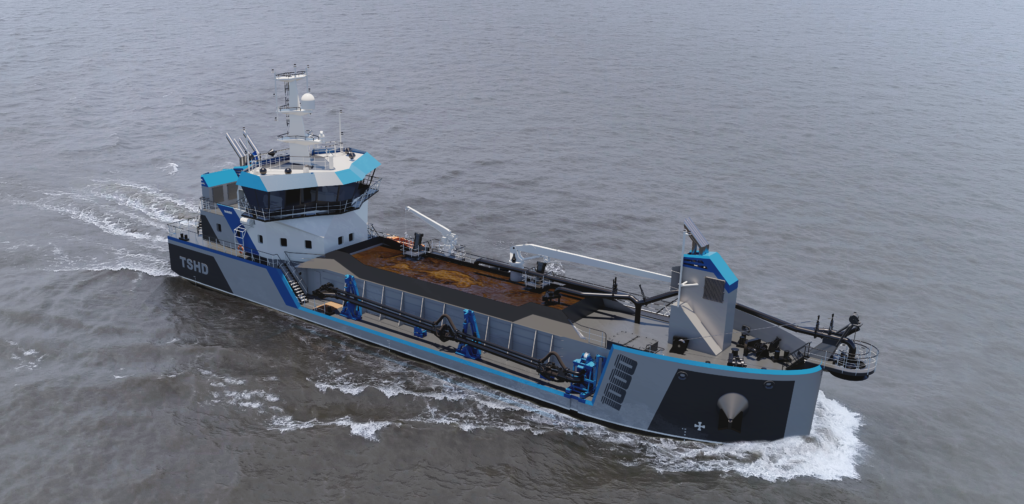 Focus on maintenance
Suction nozzles, piping and all  primary equipment that transports the silt, sand or gravel from the seabed into the hopper, they are unavoidably subject to wear and tear. This equipment is often enclosed in the vessel structure, making maintenance a complicated job that takes a lot of time. The dredger is not available for production during that time. Downtime costs money. To minimise this, all primary equipment aboard the Port & Maintenance series is serviceable while the vessel is afloat.
Safe and sound
Safety and environmental protection are inherently within the new dredger series. All the vessels have the fuel tanks separated from the side shell. In case of collisions in confined navigating areas, an event for which dredgers experience greater risk than other vessels, no fuel oil will leak into the water. Furthermore, the design of the dredgers' hulls eliminates the need for taking in ballast water. The bridge for navigating and operating the equipment at dredging operations, is cleverly designed in terms of ergonomics and functionality. The helm and operator positions are separated but within the same space. The bridge deck is designed to provide excellent views over the operations deck and hold, but also over the surrounding waters. When operating in harbours or estuaries, unobstructed vision over the waters and passing marine traffic is essential for a safe operation. The accommodation is designed with comfort in mind. The work and rest facilities are on separated deck levels to ensure optimal crew comfort.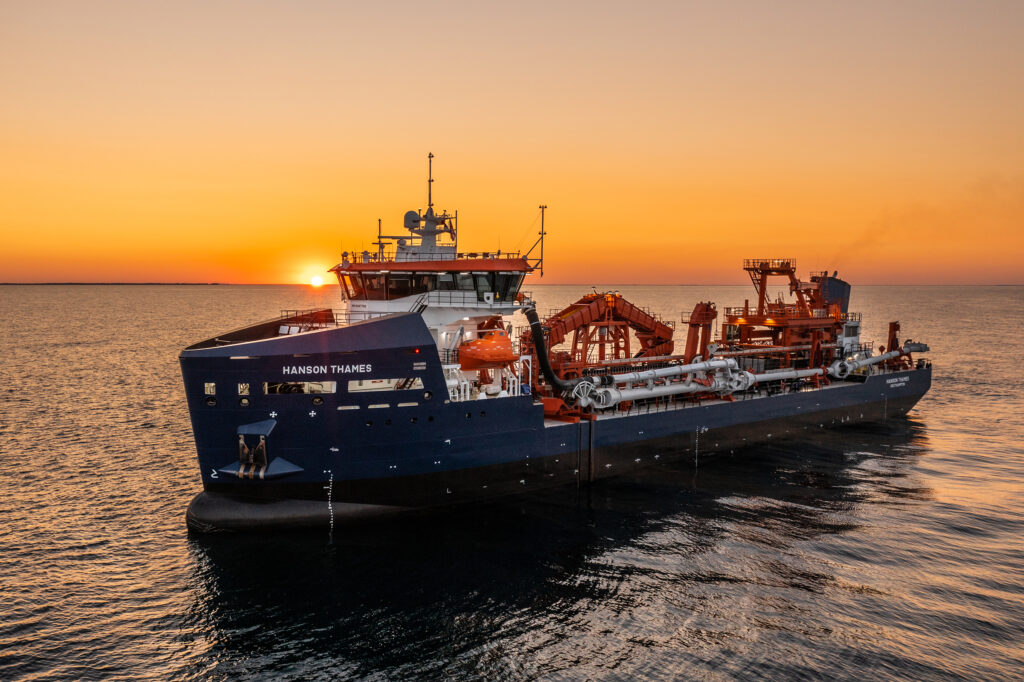 Data analysis
All Damen TSHD's are equipped with the Triton data collection system, that analyses engine performance, fuel consumption, navigational data and provides information to be applied for predictive maintenance as well as the dredge production and hopper containts. Triton delivers valuable data for operators and ship owners to increase on efficiency. Progressing on the connected vessel platform Triton, Damen is looking ahead with their simulation platform to predict what will happen during operation of a vessel. This paves the way for autonomous operation, but the focus of Damen is not on operating without a crew. What matters is that digital technology supports professionals and ensures that our ships take as much work as possible off their hands. It makes the job more efficient and safer.  
Cost efficiency
All these innovations and improvements included in both TSHD series result in more sustainable vessels. Installation of engines powered by alternative fuels such as methanol, or ammonia is possible to client demand, suiting the specific operational requirements. With a variety of equipment configurations and purpose designed performance configurations, available from Damen Dredging Equipment, all TSHD's can be laid out for optimal efficiency to fit specific operational profiles. Proposal engineers compose the vessel and equipment lay-out that provides the best suitable dredging tool for the job. The Port & Maintenance series may provide a good alternative for port authorities to achieve their own dredger as compared to engaging dredging companies on a contract basis. Ports at river mouths and ports with sandy entrances, could benefit from the Multi Purpose series. All of the TSHD's can be equipped to suit specific jobs. Along with service contracts for the vessels' life span, training for crew can be provided.
Find more information at: TSHD vessel – Trailing Suction Hopper Dredger – Damen
Note: The opinions, beliefs, and viewpoints expressed in this article do not necessarily reflect the opinions of DredgingToday.com.