New milestone for the Tuas Next-Generation Port project (VIDEO)
Maritime and Port Authority of Singapore (MPA) has marked another milestone – the completion of fabrication works for all 227 caissons for the Tuas Port Phase 2.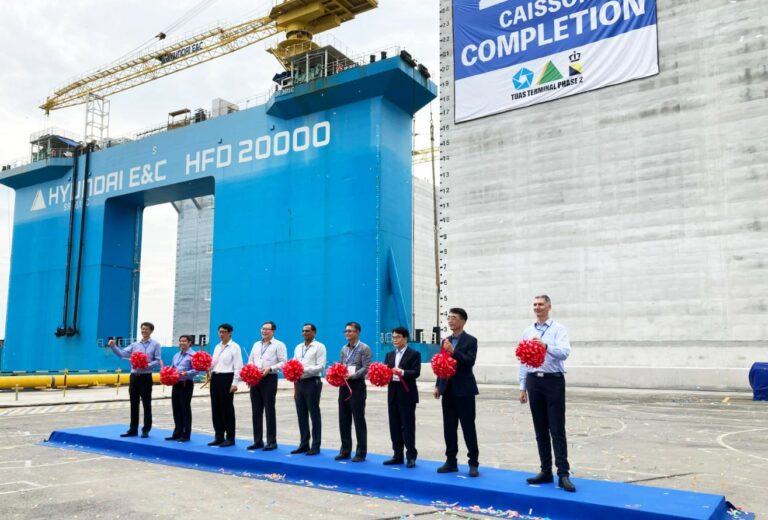 According to MPA, this is the largest of the four phases to be reclaimed at 387 hectares. The 8.6 km wharf structure will consist of 227 caissons, each weighing 13,000 tonnes and ten storeys high, that form the foundation for this Next Generation Port.
Celebrating the occasion, MPA's Assistant Chief Executive (Operations), Captain M Segar, said that the completed Tuas Port will be the nucleus of the larger Tuas Ecosystem – well-integrated with the vibrant business and industrial districts in the Western region, such as the Jurong Lake District, the Jurong Innovation District, and especially the Tuas Industrial District.
"This will synergise business opportunities, multiply economic benefits and enhance port-industry integration," said Segar. "It was no easy feat. Such a challenging yet exciting project would not have been possible without our engineers, key partners, contractors, and thousands of workers who worked around the clock. Despite working 24/7, the team can be proud that they managed to complete the project injury free."
The Tuas Next-Generation Port project, being developed in four phases, will have a price tag of over $20 billion.
Phase 2's reclamation works are being delivered by joint venture of Penta-Ocean Construction Co. Ltd/Hyundai Engineering & Construction Co. Ltd/Boskalis International BV (PHB). According to MPA, Phase 2 is at the moment more than halfway through and the planning for Phase 3 is in full swing.
All container operations in Singapore will be consolidated at Tuas Terminal by the 2040s after which the port will be able to handle up to 65 million TEUs annually.