Trimble equipment proves success at Port of Kalama
Located 30 miles northwest of Portland, Oregon, the Port of Kalama sits on the Columbia River.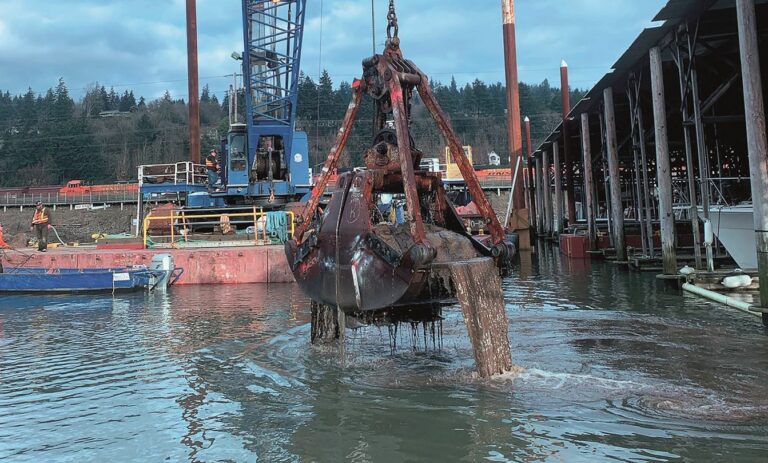 The port's industrial area includes five miles of riverfront property adjacent to the 43-foot federally maintained deep draft navigation channel of the Columbia River.
Handling well over 13 million metric tons of bulk commodities, it's one of the West's largest bulk export gateways.
The marina includes permanent moorage slips, a two-lane boat launch and 140 feet of guest moorage.
To meet growing demand, the Port of Kalama looked to build a new 550-foot-long guest dock, including utilities and new access gangways, on the east side of the Port of Kalama Marina.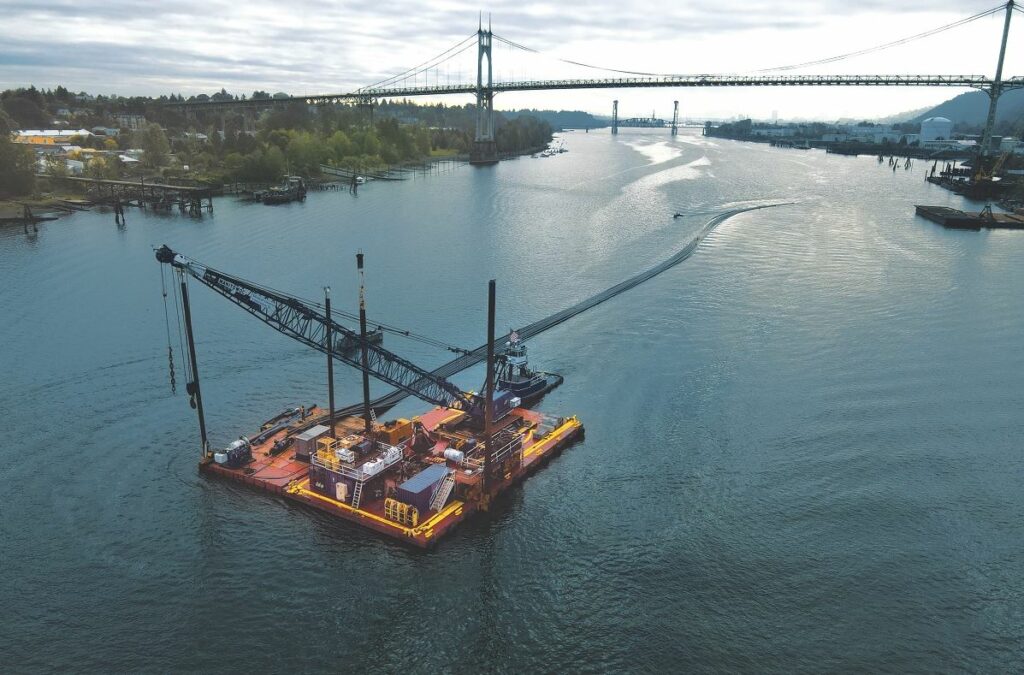 Heavy civil and marine construction specialists Advanced American Construction (AAC) was contracted to complete the project, which had three major components: marina dredging, pile driving (to support the dock) and dock construction.
Evan Clemson, Vice President of Operations at AAC, said: "We realized before we bid the project that tracking in-progress dredge productions would be critical to the success of the project. We engaged Trimble Marine Dealer Measutronics Corporation to help us combine the best equipment, technology and workflow for success."
As a Trimble Advanced Marine Partner, marine systems integrator and solutions provider, Measutronics has proven advanced skills in systems integration, customer training and support for unique and complex marine solutions.
One Software Package, Multiple Missions
The first phase of the project required dredging about 8,000 cubic yards of material, which included sand, silt, gravel and boulders. AAC and Measutronics determined that a large excavator with a suspended pump and bucket and cutter attachments with a crane and clamshell attachment would be sufficient for the project.
"Everything underwater is a challenge—and there was a penalty for overdredging past a certain point," explained Clemson. "We also needed to quantify the dredging totals, which required eyes under water."
Measutronics recommended equipping the excavator with Trimble Marine Construction, a solution designed to optimize the productivity and efficiency of dredging and marine construction workflows, supported by a single beam echo sounder (SBES) to acquire pre-/post-dredge survey data.
The team also set up a Trimble SPS930 total station on the beach to verify positioning.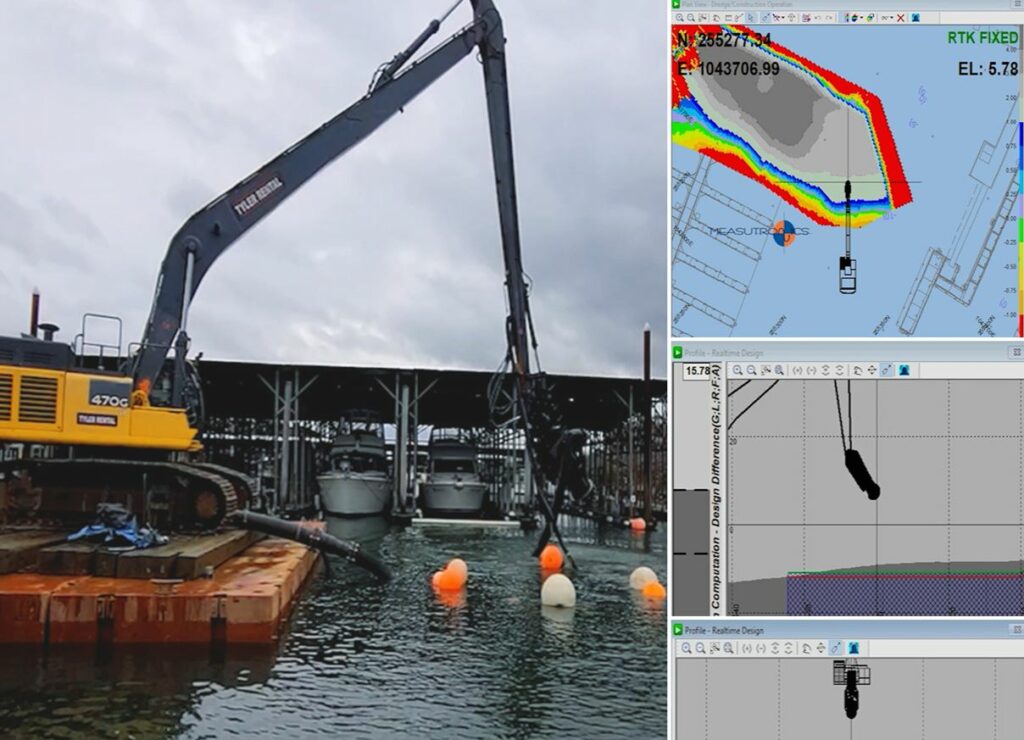 In advance of project go-ahead, the International Union of Operating Engineers (IUOE) Local 701 trained two operators on the use of Trimble Marine Construction software.
"The entire team, from project manager to the craft level, want efficiency. Our operators, in particular, are very aligned with the benefits and use of this system," confirmed Clemson.
With setup complete, the excavator operator was able to track the bucket location in real-time in 3D. At all times, the operator had a visual map of what's been completed and what still needs to be done.
"Poor choices in managing dredging quantities can raise daily burn rates significantly," said Clemson. "Overall, we estimate that we saved 15-20% on the dredging phase of this project by having real-time underwater data versus old school methods of measuring and re-digging, revisiting incomplete areas, or overdredging in certain areas. That's probably a six figure cost savings on a project this size."
The underwater measurement and visualisation capabilities also minimized the need for divers to verify work completed and quantify production.
Pile Performance
Once dredging was complete, the crew needed to drive 25 piles to support the new dock.
Clemson asked the Measutronics team if he could use a Trimble Marine Construction solution on a vibratory hammer to better measure pile position accuracy for faster and more accurate piling.
"Using conventional methods, we're usually within 6-10 inches on a good day," said Clemson. "We were shooting for a pile positioning accuracy of two inches. We were also faster. With the 3D data in the cab, the operator had a frame of reference underwater that provided greater confidence, which in turn drove efficiency."
The use of Trimble Marine Construction on a vibratory hammer is now an integral part of AAC's technology toolbox.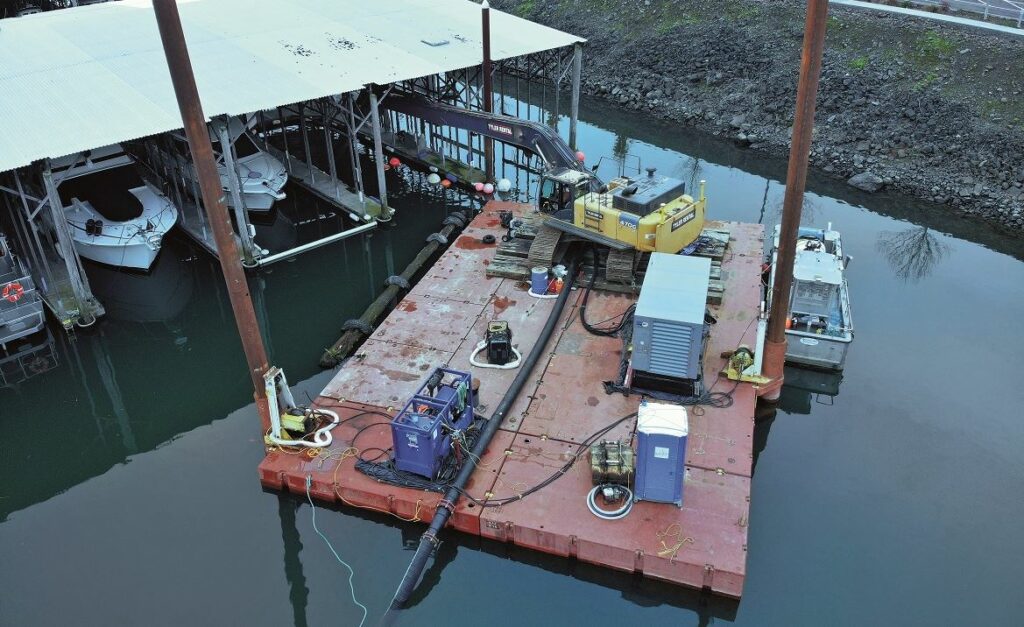 "We're always excited to find new ways to use the Trimble systems to make us a better contractor," added Clemson.
Overall, AAC realized value of Trimble Marine Construction across the project in five different ways starting with the single beam echo sounder and then the excavator with bucket, excavator with pump, excavator with vibratory hammer as well as the crane with clamshell.
The data from the Kalama project has also provided benchmark data about material quantities and operator production that will support future bids.