Beach nourishment underway at Kill Devil Hills
Last week, Weeks Marine Inc. began works on the $6.4 million Kill Devil Hills beach nourishment project in Dare County, NC.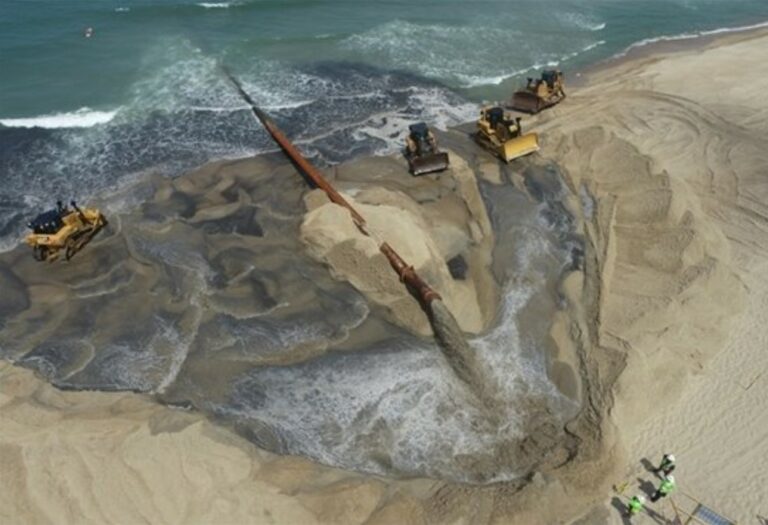 According to the Town of Kill Devil Hills, the beachfill project which commenced on Monday, June 13, will be taking place from the north town line south to Prospect Avenue.
Once contractors complete the construction to Prospect Avenue, they will then turn back north to complete the area from First Street to the KDH/Kitty Hawk Town border. The turn back north will likely occur sometime this weekend.
It is anticipated that the Kill Devil Hills' nourishment scheme will last approximately 25-35 days. The work will affect beach use only in a small area, moving every few days further.
"Closures associated with the beach nourishment project are done to ensure the safety of the public. Active construction and staging areas will be clearly marked and secured with fencing and ribbon to form a protective barrier. Due to the potential hazards to the public that are presented by heavy equipment and construction activities, these areas will also be monitored 24/7 by security personnel," the town officials said.
This is only the first of seven beach nourishment projects that will take place along the Outer Banks this summer. The scheme is part of a wider effort to address the critical issue of erosion by replenishing beaches in the towns of Duck, Southern Shores, Kitty Hawk, Kill Devil Hills and Nags Head, as well as the villages of Avon and Buxton on Hatteras Island.