Sod-turning ceremony for North Park Sediment Recycling Facility
The Lake County Board of Commissioners, along with the Lake Development Authority and Kurtz Brothers Inc. held the groundbreaking of the North Park Sediment Recycling Facility on June 21st 2022.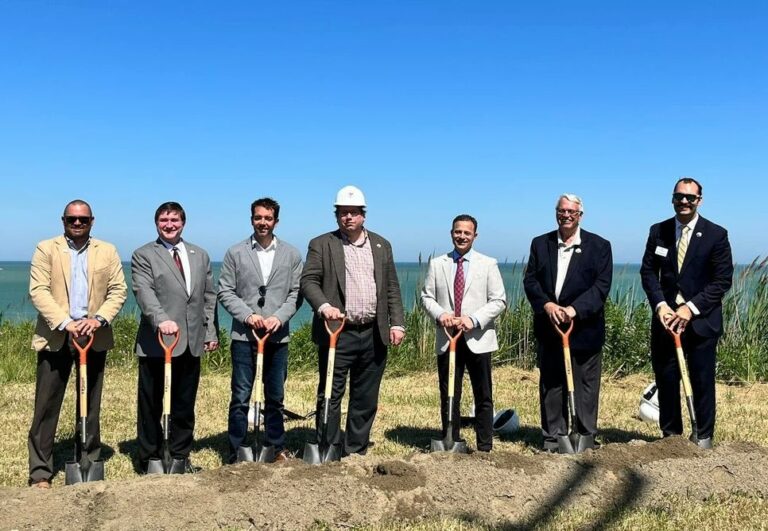 The North Park Sediment Recycling Facility, to be built and operated by Kurtz Brothers, is located at 775 Hardy Road, Painesville Township, Ohio.
This project will pave the way for coastal development in Lake County for years to come and protect the County's greatest asset, the Lake Erie.
The State of Ohio's Office of Budget and Management Controlling Board recently authorized $47 million to fund the construction of Sediment Recycling Facilities across the State of Ohio.
Sometimes called a confined placement facility, they are specifically designed for the containment of contaminated dredged material from Lake Erie that provides control of potential releases of contaminants to the environment.
Lake County received $11.3 million in funding to construct its facility in Painesville Township. The facility will recycle dredged sediment from the Grand River and Fairport Harbor, making it easier for larger ships and shipping containers to navigate the channel.
The need for these facilities was prompted by ORC 6111.32 which banned the disposal of dredged sediment from federal navigation channels into Lake Erie. As a result, dredging of the Grand River and the harbor was paused for nearly three years.
Now with the new facility, the U.S. Army Corps of Engineers will reinstate dredging of the river and the harbor area. According to the officials, the North Park Sediment Recycling Facility will receive its first load of sediment this August.