McConalogue names new EUR10 million Fishing Pier in Howth
Minister Charlie McConalogue officially named the new €10 million "Fishing Pier" at Howth Fishery Harbour Centre yesterday – one six State-owned Fishery Harbour Centre.
This major redevelopment project was funded through the Department of Agriculture, Food and the Marine's Fishery Harbour and Coastal Infrastructure Development Programme.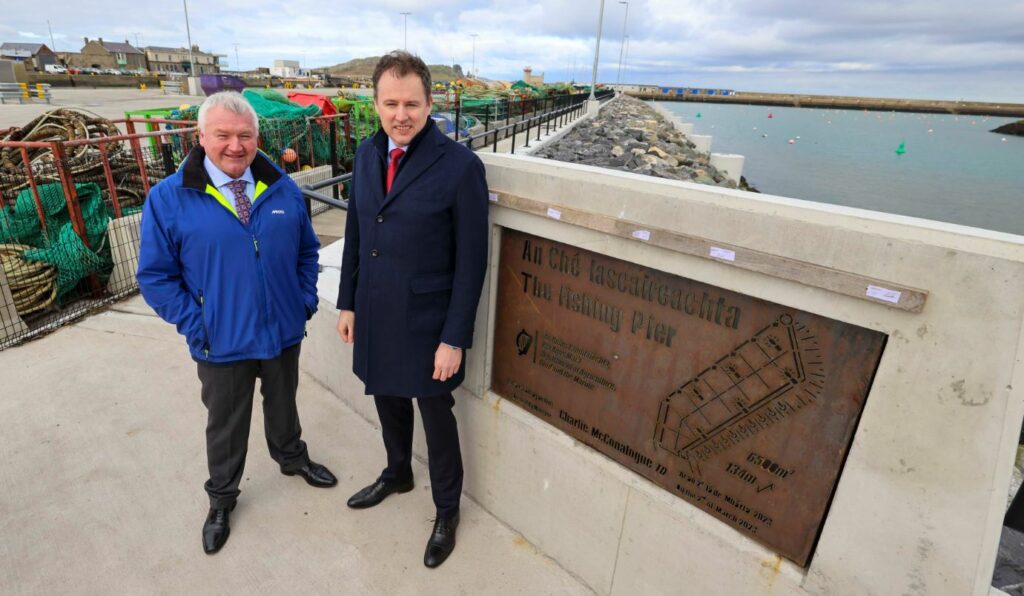 "I'm delighted to officially open the new "Fishing Pier'. It is an integral part of my department's overall strategy to provide dedicated, stand-alone fit for purpose facilities for the fishing industry in Howth," said McConalogue.
"The newly redeveloped "Fishing Pier" facilitated the moving of vessels from the west pier onto this redeveloped pier. I must also acknowledge our main contractor, John Sisk, and Consulting Engineer Malachy Walsh and Partners who overcame COVID-19 restrictions and supply chain delays to deliver a first-class structure."
The works comprised of the construction of 134 metres of new quay wall, dredging, stabilisation and infill of subsea material which covers a greatly enlarged area of 6,500m2.
Works commenced in October 2020 and were completed in April 2022 at a cost of €10 million.
The additional berthing space created relieves vessel congestion issues and enables greater segregation between the activities of fishing vessels and the marine tourism and leisure activities which are mainly concentrated on the West Pier.
Also, the department has plans for further significant investment in a dredging and reclamation project for Howth Fishery Harbour Centre and planning permission for this work is currently under consideration by An Bord Pleanála.