First Bipartisan Infrastructure Law project for the Walla Walla District
The Walla Walla District recently completed dredging work at the confluence of the Snake and Clearwater rivers near Lewiston, Idaho and downstream of Ice Harbor Dam. This is the first project the district has completed using Bipartisan Infrastructure Law funds.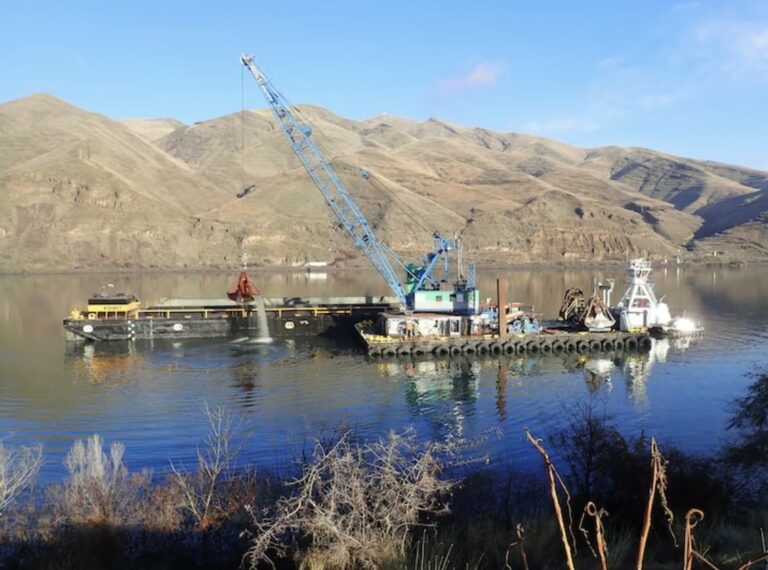 The commitment of Walla Walla District engineers and designers was essential to the overwhelming success of this project. The project delivery team received funding in April 2022, with the goal that dredging would occur during the next in-water work window, which ended March 1, 2023.
The team worked diligently to design the project, collecting incredibly accurate data for contractors, and taking steps to ensure strict environmental standards were met. The effort, which should've taken over a year to complete, had a contract awarded by the end of September 2022.
The overall attention to detail resulted in a project that was delivered successfully and $3 million under budget.
The dredging work provided necessary maintenance for the federal navigation channel, which must be maintained at a depth of 14 feet. The Walla Walla District also worked in coordination with stakeholders along the navigation lanes. These stakeholders were able to use the contractor mobilized by the Walla Walla District to perform necessary dredging at their facilities at their expense.
These additional dredging locations included the Clarkston Crane Dock Maintenance Area, the Clarkston Grain Dock Maintenance Area, the Clarkston Recreation Dock Maintenance Area, the Clarkston Cruise Line Dock Maintenance Area, and the Lewiston Grain Dock Maintenance Area.
The actual dredging began on January 5, and the contractor removed 218,286 cubic yards of sediment in less than 60 days, in 144 scow loads. This sediment was disposed in-water at a site near Bishop Bar.
The last dredging work done in these areas was performed in 2015, eight years ago. Historically, dredging for channel maintenance has been conducted every three to seven years.