Work underway to upgrade coastal defences in Penrhyn Bay
Jones Bros Civil Engineering UK recently began work on a multi-million-pound coastal defence project in North Wales.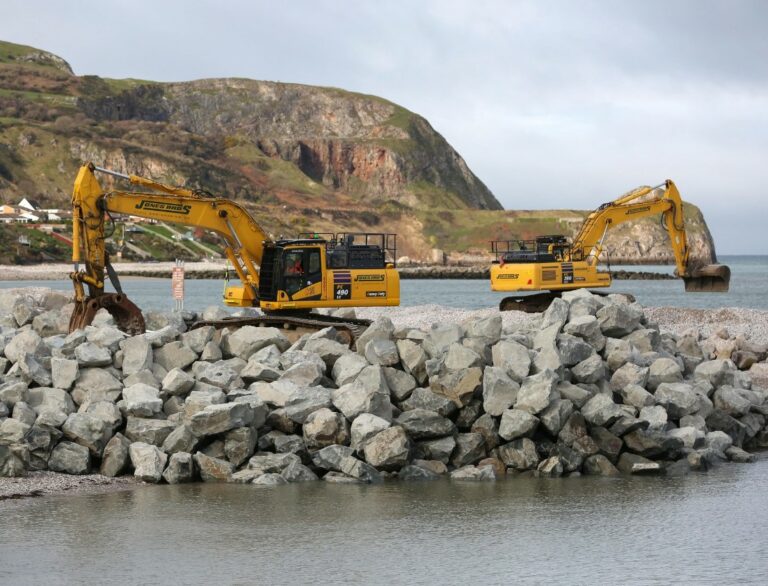 The contractor, appointed by Conwy Borough Council, is utilising its expertise to deliver £7.5 million worth of shoreside improvements as part of the Penrhyn Bay development.
Jones Bros will procure and import 70,000 tonnes of rock armour, sourced from North Wales quarries, which will be built in a T-shape rock groyne to reduce beach erosion and minimise the impact of stormy weather and associated coastal flooding.
The company will also import large quantities of shingle to replenish the beach in order to protect the existing stepped defences, the promenade, and the infrastructure behind it.
"As a local company, it's wonderful to be awarded the scheme, which we know will be of great benefit to the community," said Jones Bros senior contracts manager, Dafydd Elis. "We have vast experience in coastal and marine projects, having worked on schemes across North Wales and the UK, including Rhyl, Tywyn, Old Colwyn, Clacton-on-Sea, and the Isle of Wight."
Cllr Goronwy Edwards, cabinet member for environment, roads, and facilities – infrastructure, added: "Coastal defences are important to protect our communities from the increased threat of climate change, sea level rises and storms. This work is an integral part of the council's strategy and will benefit the residents of Penrhyn Bay for a long time to come."
The public space improvements, including the promenade and cycle path, are expected to be finished by early summer, while the onshore coastal defence aspects of the project are scheduled to be completed by the end of 2023.