Washington gets $74.4M in coastal and climate resilience funding
Natural barriers like marshland, dunes, and floodplains provide critical protection from storms and rising sea levels. New funding from the National Oceanic and Atmospheric Administration (NOAA) will invest $74.4 million across 14 projects in Washington state to enhance these protections, create jobs, and support healthy natural environments.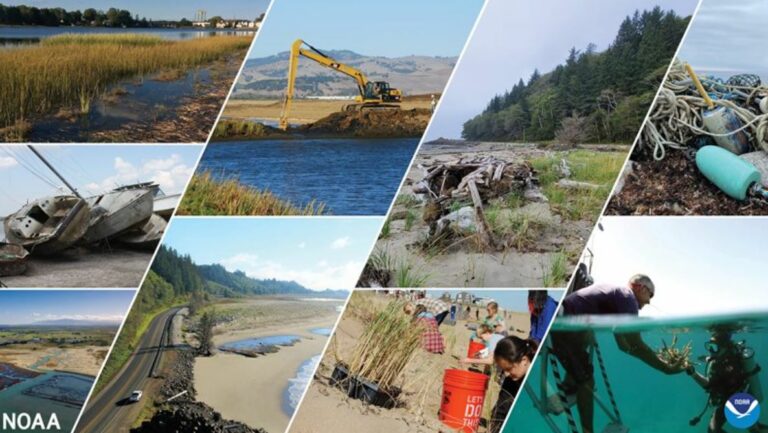 This funding is part of a nationwide $562 million investment in climate resilience from the Climate-Ready Coasts initiative, which is funded through the Bipartisan Infrastructure Law (BIL) and Inflation Reduction Act (IRA).
Ecology will receive $2.32 million to help Padilla Bay National Estuarine Research Reserve protect 74.5 acres of former and current tidal marsh as part of a larger overall effort to restore up to 105 acres of tidal marsh, in coordination with the Skagit Land Trust.
Along with the marshland restoration efforts, the project will increase climate resilience by reducing flood risk for the only road and utility corridor that serves the Samish Island community.
The project also will restore Tribal access to the site, which historically supported natural resources stewarded and utilized by a former nearby Samish Indian village.
In Willapa Bay, the Washington State Department of Transportation – in coordination with Ecology – will receive $3.98 million to restore and protect Graveyard Spit.
These funds will be leveraged alongside $9.98 million in previously awarded infrastructure funding from the National Fish and Wildlife Foundation to finance the project.
The Graveyard Spit Restoration and Resilience Project will include the rehabilitation and revegetation of the historic barrier dune on the spit and the construction of a naturally sloped cobble berm.
Also, the Shoalwater Bay Indian Tribe will carry out monitoring of endangered bird species during project implementation, while Ecology will monitor dune conditions to inform final construction plans and future adaptive management.