A new Cutter Suction Dredger range
25 years after Damen Shipyards first introduced its cutter suction dredging range, it has now unveiled a complete redesign of the six-vessel series to take advantage of new technologies and incorporate accumulated customer feedback. The new range also addresses the challenging environmental regulations coming into effect and is prepared for the new low-carbon propulsion systems that are fast becoming a reality.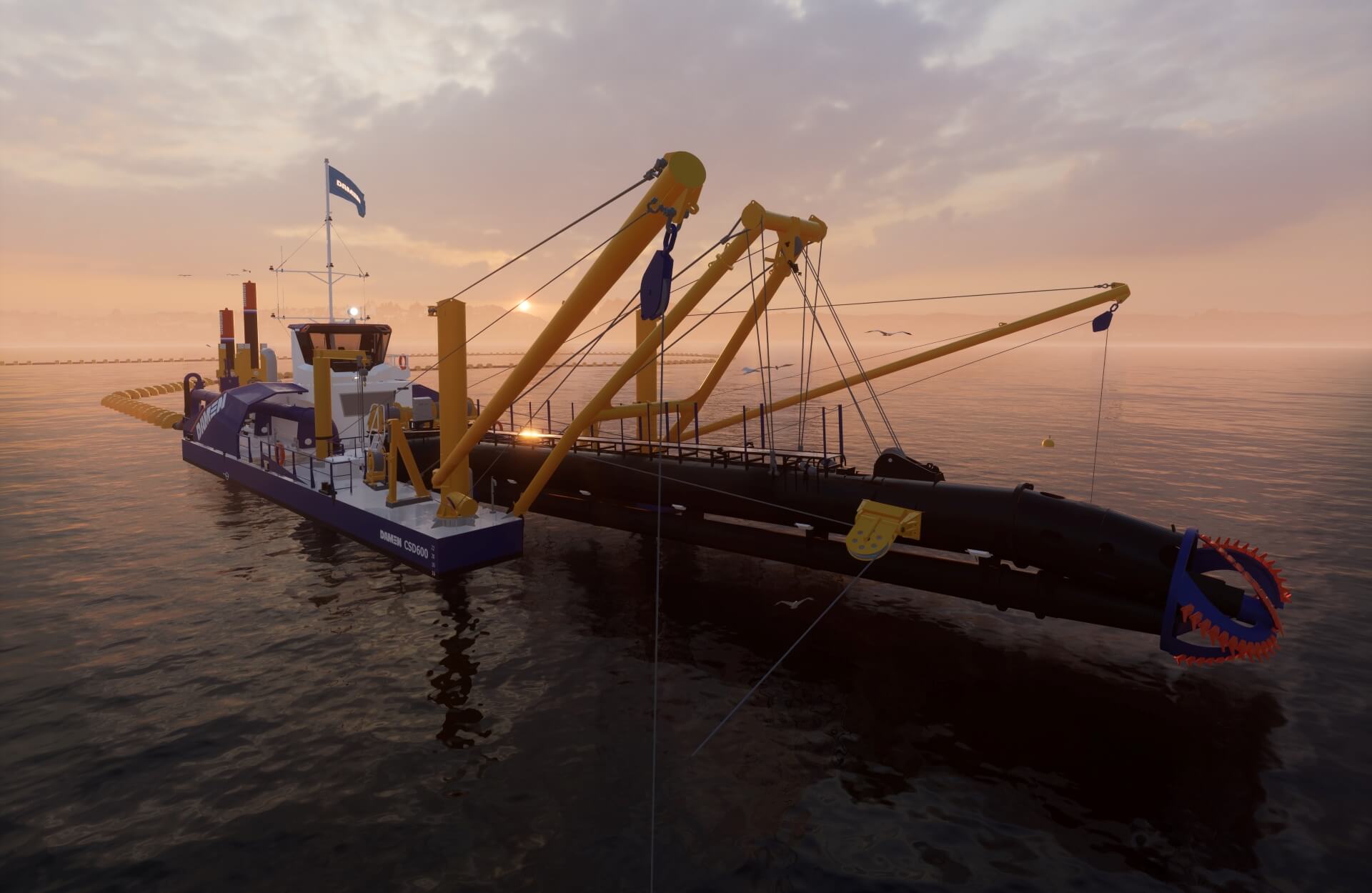 The development programme has combined both Damen's own R&D resources and external input from its customers and suppliers. The client base has been an invaluable source of information and inspiration from the beginning, with feedback from ongoing and potential clients coming through multiple channels including Damen's field service engineers, design and proposal engineers and the sales teams. The contribution made by their industry partners and suppliers has also been invaluable. Through their own R&D programmes they have made major advances in recent years, particularly in areas such as hydraulics and electrical equipment.
Damen decided to create a new CSD range from the ground up with all the input fed into the creative team. While the new series appears at a distance to share characteristics with its predecessor, it incorporates a multitude of small changes relating to safety, sustainability and operability as well as major design improvements. Together they add up to a complete transformation.
Key features:
The programme increases the efficiency of the dredgers by simplifying wherever possible. The number of pontoons for some of the CSDs has been reduced from six to three while the available workspace on deck has increased. A new CSD 600 has been introduced and the existing CSD 650 has been replaced with a 700 model. As a monohull it delivers cost savings with less steel and fewer connections required while increasing productivity.
After much consultation, development and design work, a solution has been devised that enables the new CSDs from the 500 upwards to have the spud carriage integrated in the dredger itself. They will be slightly longer than their predecessors as a result, but it will reduce the amount of steelwork and components used while delivering a simpler, more rigid dredging system that is just one unit. They will also be faster to mobilize.
Safety enhancements include wings to protect the crew from the sun, wind and rain, and winches that are kept together and mounted safely out of reach on a frame on the cutter ladder. Fixed railings are now fitted around areas that do not require human interaction, and the control cabins have been raised to give improved, 360 degree visibility.
To maximise sustainability, all the vessels are designed to accommodate clean energy sources in the future. Meanwhile they will be fitted with advanced diesel engines that deliver lower emissions and higher efficiency, and next-generation, efficient hydraulics.
A host of productivity improvements have been incorporated into the designs. These range from the integration of the spud carriage system that makes them longer and gives a wider swing which increases its operational efficiency, to a spud hoisting system which is now clamped instead of using a wire sling, making the operation simpler and safer. The control cabin has also been redesigned for maximum efficiency and repositioned for maximum situational awareness.
The dredge pumps have been completely redesigned and are now more efficient and easier to service and operate. Triton, Damen's centralized IoT platform, plays a key role in maximizing efficiency through remote monitoring and analysis that can lead to the delivery of suitable training via the platform.
The new range is being rolled out between the summers of 2023 and 2025. The first vessel to be built is also the most prominent change in the CSD line-up. The CSD 600 (capable of extracting 6,000m³ of material an hour) fills a large gap between the current CSD 500 and CSD 650 with the latter being nearly twice the size of its smaller counterpart. It is currently in build and expected to make its debut in September. A wide range of 'plug and play' options will be available for each model.
The Damen Dredging Equipment (DDE) yard at Nijkerk in the Netherlands will remain the lead production site with satellite yards in Vietnam, Sharjah and Poland building for their regional markets.
Looking ahead
Damen's CSD range will initially be delivered with diesel engines as standard, but they are designed to be readily adaptable for the new propulsion systems that are just around the corner. Whether it's fully electrical, or other, low-emission alternatives, the new CSD family has been designed to keep pace with advances in technology in the years ahead.
Damen Shipyards Group – Oceans of Possibilities
Damen Shipyards Group has been in operation for over ninety years and offers maritime solutions worldwide, through design, construction, conversion and repair of ships and ship components. By integrating systems we create innovative, high quality platforms, which provide our customers with maximum added value.
Our core values are fellowship, craftsmanship, entrepreneurship and stewardship. Our goal is to become the world's most sustainable shipbuilder, via digitalisation, standardisation and serial construction of our vessels.
Damen operates 35 shipyards and 20 other companies in 20 countries, supported by a worldwide sales and service network. Damen Shipyards Group offers direct employment to more than 12,000 people.
Note: The opinions, beliefs, and viewpoints expressed in this article do not necessarily reflect the opinions of DredgingToday.com.