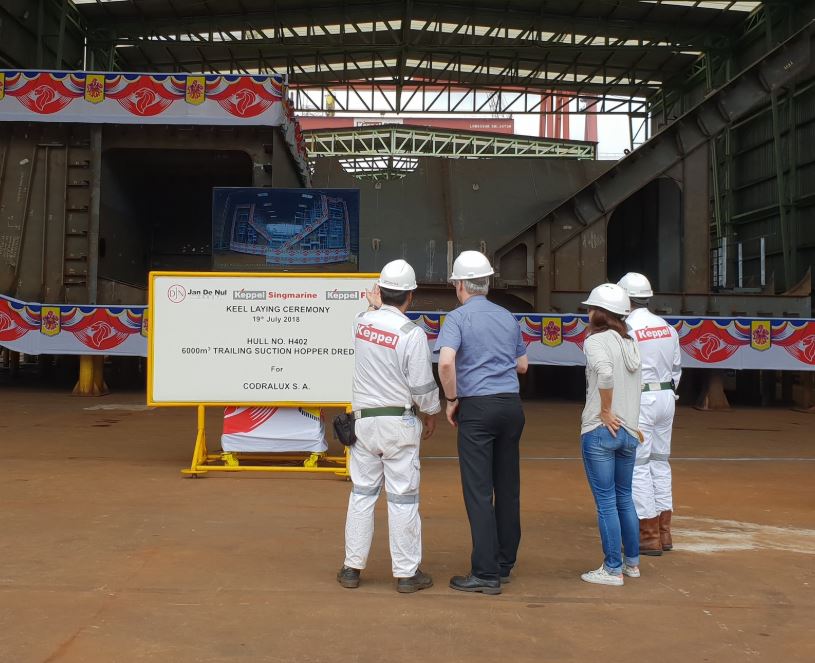 Keppel Singmarine Pte. Ltd. last week held a keel-laying ceremony for the medium-sized 6,000m³ trailing suction hopper dredger which is being built for Jan De Nul Group.
Earlier this year, JDN placed an order for six ultra-low emission TSHDs, five of which are being built at Keppel: three small 3,500m³, two medium-sized 6,000m³ and a larger vessel of 18,000m³ at the Cosco (Dalian) Shipyard in China.
According to the company, all six vessels will be diesel-electrical powered, with engines allowing optimal use of generated power but with low fuel consumption and emissions.
In addition, the vessels will be equipped with a two stage highly efficient exhaust gas filter system, resulting in emissions complying with the European Stage V regulations for inland waterway vessels.
Jan De Nul Group recently decided to name both 6,000m³ dredgers after two decommissioned vessels of the Groups fleet: Sanderus and Ortelius.
Main characteristics of the 6,000 m³ dredger:
Hopper capacity – 6,000 m³;
Deadweight – 9,880 ton;
Length o.a. – 111.7 m;
Breadth – 24.6 m;
Draught loaded – 7.0 m;
Maximum dredging depth – 35.0 m;
Diameter suction pipe – 1,000 mm;
Pump power (trailing) – 1,500 kW;
Pump power (discharging) – 4,000 kW;
Propulsion power – 2 x 2,150 kW;
Total installed diesel power – 7,700 kW;
Speed – 12.5 kn;
Accommodation – 16 p.