Removing Sunken Dredging Barge from Alexandroupoli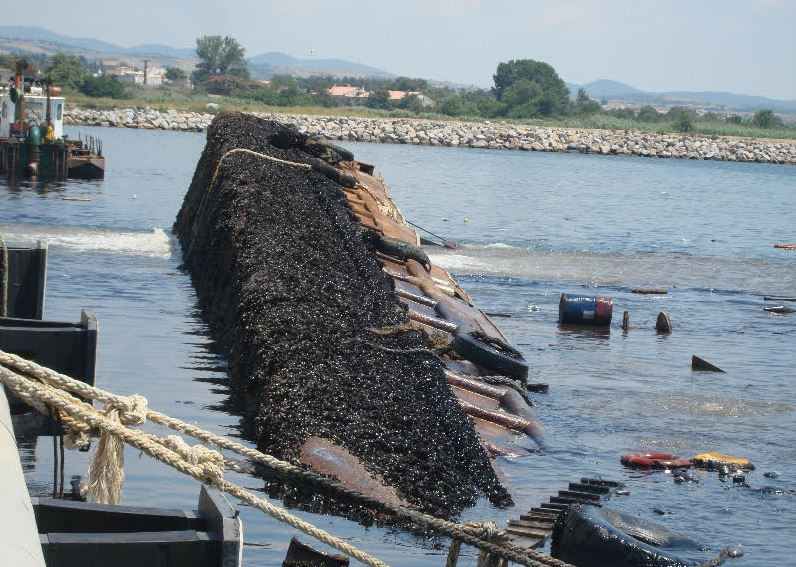 Responding to a request from U.S. Naval Forces Europe and U.S. Army Europe to remove a sunken dredge barge from the Port of Alexandroupoli, Greece, NAVSEA Supervisor of Salvage and Diving, SEA 00C, has developed a plan and assembled a team to remove the barge and restore access to the pier for future NATO missions.
The dredge barge Olga, which has laid on the harbor bottom since 2010, is over 150' long and weighs approximately 800 metric tons.
The barge is laying on its side and blocking the center portion of the 500' long cargo pier which represents a vital asset for NATO logistics operations.
Following a site survey in June, SUPSALV returned in early August with their team to begin vessel removal.
The team consists of NAVSEA salvage engineers, a salvage master from SUPSALV's Atlantic region salvage contractor, DONJON, and a Greek salvage company, Five Oceans, supported by a local dive team.
Using the crane barge Hercules, the salvage team's plan is to section the barge using a chopping beam (also known as a crane chisel) into 30-ton hull sections for lift and removal.
The team makes progress daily and plans to continue removal operations through the end of October when 500 ft of additional pier space in Alexandroupoli will be available for future NATO operations.