North Brevard shore protection renourishment project is set to begin in late March, according to the Army Corps Jacksonville District.
Beach re-nourishment of the North Reach section of the Brevard County Shore Protection Project will start on or about March 20, announced the Army Corps.
The effort will place about 465,000 cubic yards of sand on the southern four miles of the 9.8-mile long North Reach shoreline, from Patrick Space Force Base to North 2nd Street in Cocoa Beach under a $10.6 million contract awarded in September 2020.
The contract for the Brevard County North Reach was awarded to Great Lakes Dredge & Dock. The project consists of dredging beach compatible sand from Canaveral Shoals and placing it on eroded areas of the beach.
"The source sand for this iteration of the shore protection project will be dredged from Canaveral Shoals, about five miles offshore Cape Canaveral. A hopper dredge will deliver it directly to the beach via a temporary pipeline," said USACE.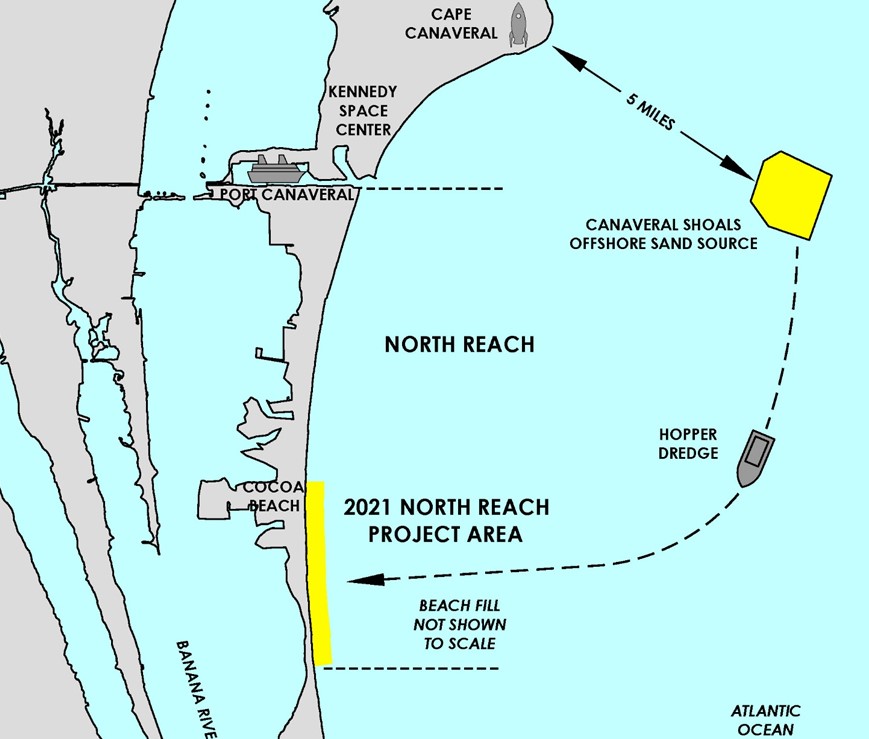 If all goes according to schedule, beach re-nourishment of the North Reach will be completed by April 30, 2021.
This will be the latest in a series of periodic beach renourishments that began in 2000. Subsequent beach renourishments were undertaken in 2005 and 2014. The shore protection project is completely funded by the federal government.