Barkmeijer Shipyards, Dutch shipbuilder based in Stroobos, has just released the latest update on the construction of new trailing suction hopper dredger (TSHD) for De Hoop Terneuzen.
According to the announcement, the wheelhouse was successfully placed on the TSHD BN348 yesterday.
This dredger is the second TSHD that they are building for De Hoop Terneuzen. This family owned company is a major supplier of building materials in the Netherlands and Belgium.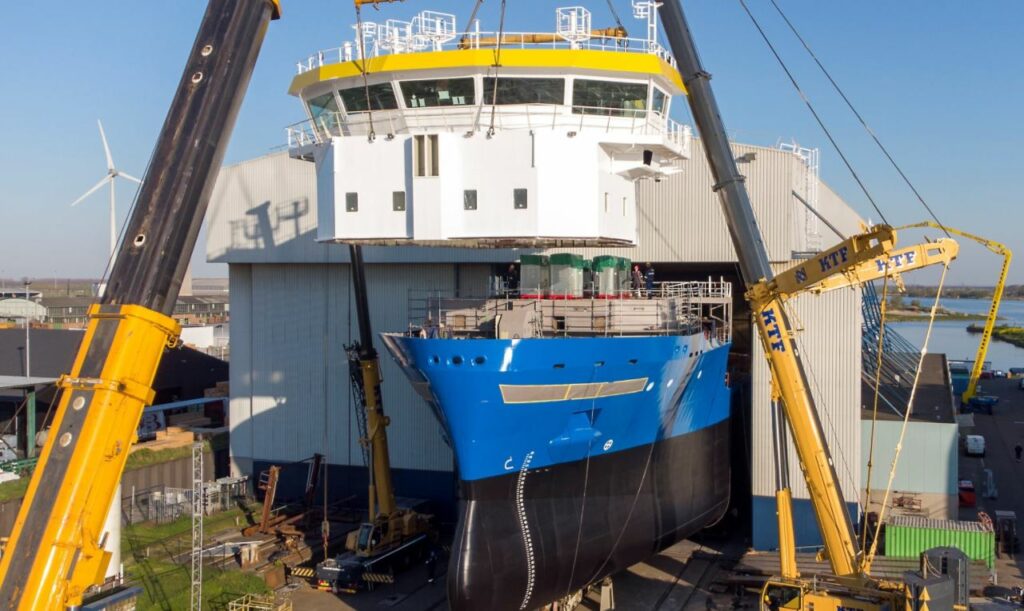 The BN347 TSHD, named Anchorage, was delivered last year and her sister vessel BN348 will be ready by next spring.
In fact, the 106-metre Anchorage is one of just a few diesel-electric TSHDs that specialize in sand and gravel extraction at sea and the dry landing of the cargo.
Additionally, the dredger's design is characterized by a high freeboard for operations at the high seas. No bottom doors are foreseen, as the intention of this vessel is to unload the aggregates ashore.
The ship is laid out at a loaded speed of fourteen knots, which is quite fast for a dredger. This is on order to reduce the transfer time between the deeper concessions and the discharge ports.
Photo: Barkmeijer Shipyards