Waikiki Beach maintenance project wraps up
Just in time for the upcoming summer season, the Waikiki Beach maintenance project to restore and rejuvenate Waikiki is complete.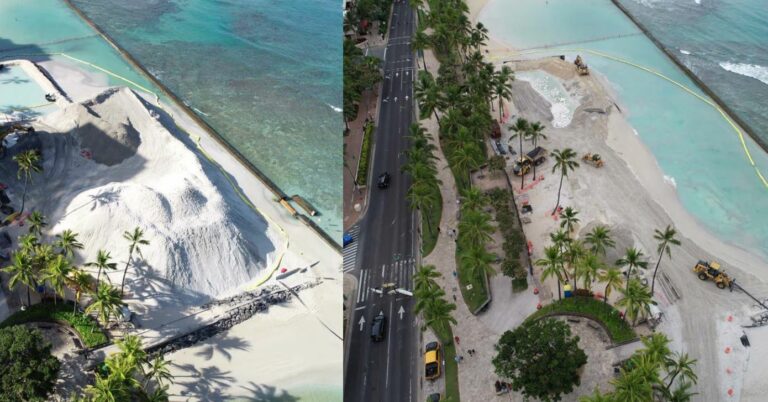 The 14-week-long recurring maintenance retrieved marine sand from a large sand field in shallow waters about 1,000-feet offshore.
The project has roughly doubled the beach width on most sections of the Royal Hawaiian Beach cell between the Royal Hawaiian Hotel and Kūhiō Beach Park. 
Sand was first dredged and then pumped to a stockpile at the Kūhiō Beach swim basin. Over six days sand was then trucked to the Royal Hawaiian Beach, which reopened last Friday.
The entire project was completed three weeks ahead of schedule because hauling and placing sand was done over 12-hour-long periods rather than half-days.
The project started with offshore dredging of marine sand on January 26, 2021. Approximately 21,700-cubic-yards of sand was moved from offshore to the beach.
The contractor, Kiewit Infrastructure Group and American Marine, were able to work through poor weather and high surf conditions to complete the job ahead of schedule.
This project is part of a planned (5-10 year) maintenance of Waikīkī Beach using a "sand recycling" concept utilizing offshore sand eroded from the beach and putting it back.