The Port of Townsville said that the Independent Technical Advisory Committee (ITAC) will meet during the next week to discuss the Channel Upgrade Project.
The public update will be held on Thursday, 17 March, 2022, from 1 pm.
Three committees provide governance oversight of the Channel Upgrade project capital dredge program:
The Compliance Regulatory Oversight Committee (CROC):
Review and approve plans that are required by approval conditions;
Provide regulatory advice as well as overseeing compliance with the approval conditions and the environment monitoring programs during capital dredging.
The Capital Dredging Implementation Committee (CDIC)
This committee will oversee the operational and logistical aspects of the capital dredge program.
The Independent Technical Advisory Committee (ITAC):
Provides technical and scientific advice andinput on the development of monitoring programs, management plans and other mitigation strategies including the development of water quality and ecological trigger levels;
Ensures independent oversight of monitoring programs during the capital dredge campaign; and
Reviews reports on monitoring programs and the environmental impacts of the Channel Upgrade project. 
The ITAC comprises of a Chair and five members who have diverse technical backgrounds and are recognised in their fields of expertise, as outlined in the table below: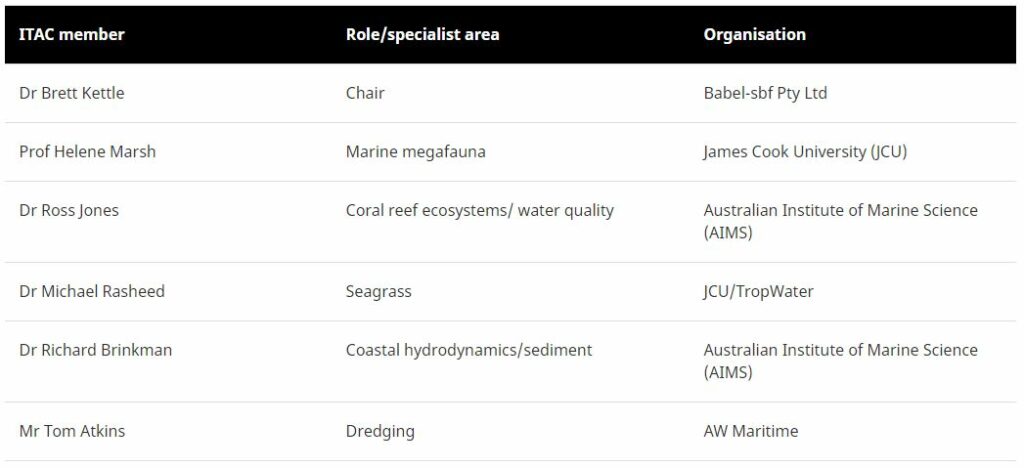 To ensure that any assessment process under the legislation is separate to any advice, engagement or review undertaken by the ITAC, no government representatives sit on this committee. 
Photo: Port of Townsville Limited