Eastern Shipbuilding Group is currently very busy with the construction of the new training suction hopper dredger (TSHD) R.B. Weeks.
The 8,550 cubic yards (6,540m³) TSHD, currently under construction at the Eastern's Allanton premises in Panama City, Florida, is expected to be delivered to Weeks Marine early next year.
The vessel will measure 356 feet long by 79.5 feet wide, with a draft of 27 feet 3 inches.
The Royal IHC-designed dredger will be equipped with a pair of GE 16V250 MDC IMO III/Tier 4 main engines that drive a pair of Wartsila controllable-pitch propellers in kort nozzles.
The R.B. Weeks will have accommodations for a crew of 26.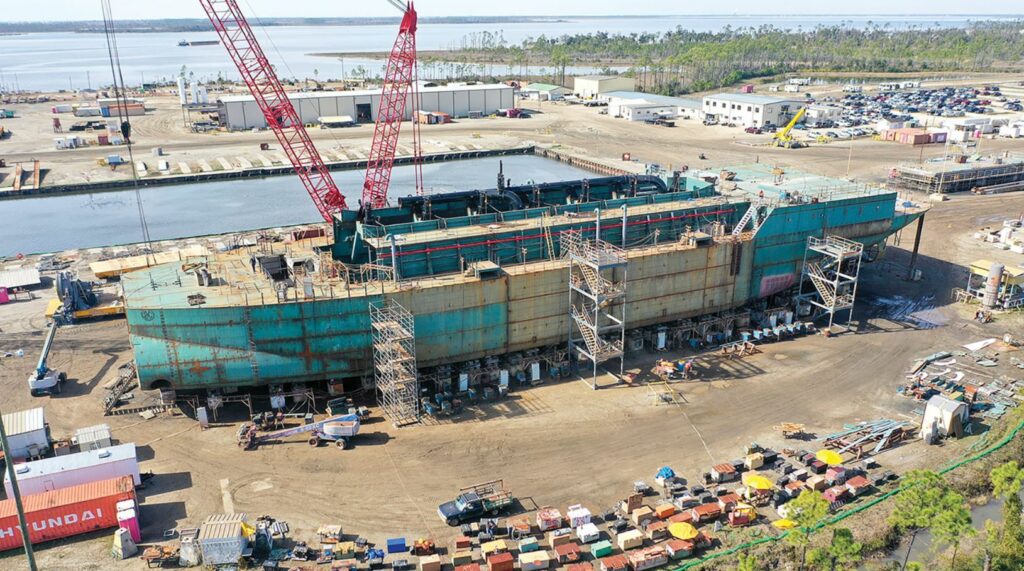 This is an identical vessel to the Magdalen that was delivered in 2017.
"This has been great for us and for Weeks Marine," Joey D'Isernia, president of Panama City, Fla.-based Eastern Shipbuilding Group (ESG) said.
"We were able to drastically cut down the engineering timeframe at the front of the project, get a quick start on construction and continue construction with good information to build the vessel quickly and efficiently."
It's been just over four years since Eastern delivered the Magdalen to Weeks, so there have been some regulatory updates, like with the engine package.
"Updated EPA emissions regulations required upgrading the engines from Tier 2 to Tier 4," D'Isernia said.
"It was very convenient that the Magdalen had GE engines, because this manufacturer opted for EGR [exhaust gas recirculation] to meet Tier 4 requirements, rather than urea after treatment. That meant we did not have to find a home for an SCR or urea tanks, or build a separate urea system."
Crew accommodations were also updated aboard the R.B. Weeks, with an additional six bunks and enhanced climate controls in staterooms.
Photo: Eastern Shipbuilding Group