Bakker upgrades Boskalis' CSD Taurus II
Bakker Sliedrecht has upgraded Boskalis' cutter suction dredger (CSD) Taurus II by increasing the vessel's booster capacity.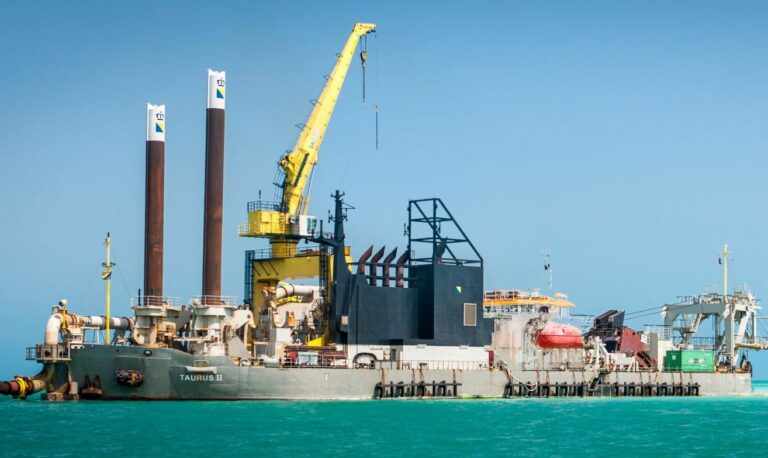 According to Bakker, by increasing capacity of the dredge pumps from 6000 to 7400 kilowatts, the Taurus II now can pump dredge material over greater distances from the stationary position.
The 112 meters long and 24 meters wide, the Taurus II was built in 1983 as a cutter suction dredger and was upgraded in 2010.
At that time, Bakker Sliedrecht modernized all electrical installations on board.
Capacity stretched to maximum
The converted Taurus II will be used as a booster station – ready to pump materials over great distances.
The existing 25 megawatts of power on board had to be used even smarter to cope with this task, said Bakker.
"We have stretched the unused capacity of the electrical installations to the maximum within all safety margins. Upgrading the pump power from 6000 to 7400 kilowatts allows the vessel to move large amounts of sand over large pressing distances quickly," said project manager Arie de Jong.
Under the contract, Bakker Sliedrecht also updated all automation systems, inspected electrical installations and improved the camera system (CCTV).
Successful completion of the vessel upgrade
Bakker Sliedrecht started the Taurus II upgrade project in June 2021.
The first part of the job was conducted in Sliedrecht, after which the adjustments were implemented and installed on board the CSD in the United Arab Emirates.
The project was successfully completed at the end of February, and Bakker Sliedrecht have already handed over the Taurus II to Boskalis.