EXCLUSIVE: R.B. Weeks joins Weeks Marine's hopper dredge fleet
Following successful sea trials, Weeks Marine has taken delivery of its newest trailing suction hopper dredge (TSHD), the R.B. Weeks.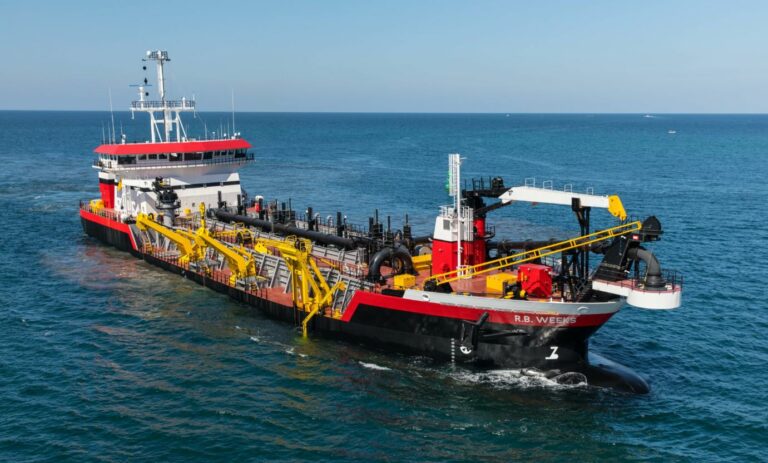 The vessel is named in honor of Richard B. Weeks, a co-founder of Weeks Marine, and is the sister vessel of the Magdalen, named after Richard B. Weeks' wife, Magdalen Weeks.
According to Weeks Marine President and CEO, Eric Ellefsen, the delivery of R.B. Weeks is a significant milestone for the company and the largest capital investment in Weeks Marine's history, which spans over a century.
"We look forward to putting the R.B. Weeks to work deepening and maintaining navigation channels, restoring storm-damaged coastal barrier islands and nourishing beaches lost to erosion, aiding the U.S. Army Corps of Engineers and other key clients," he said.
The vessel has an overall length of 364'-06" with a hopper capacity of 8,550 cubic yards, which is equivalent to more than 560 truckloads of material.
"The powerful and efficient GE 16V250 MDC IMOIII main engines meet EPA Tier 4 emission standards, underscoring our commitment to sustainability and protecting our planet across all areas of our business," the company said.
Like the Magdalen, the R.B. Weeks includes a top-tier dredging machinery package by Royal IHC which includes dynamic positioning and powerful dredge and jet pumps that will efficiently load and unload the vessel.
The vessel has accommodations for up to 26 mariners ranging from captains and chief engineers, to assistant engineers, mates and oilers, among others.