Russia continues intense development of its port infrastructure that implies a considerable scope of dredging works.
Some of the largest dredging projects in the country include dry cargo area of Taman port, Utrenny terminal, port in Pionersky, port Lavna.
The country is also stepping up construction of its own dredging fleet, replacing old and obsolete vessels with new modern ones.
Larger and deeper
Among the customers of dredging works in Russia are FSUE Rosmorport, Rosatom, Federal Marine and River Transport Agency through its subordinate companies and administrations of IWW basins as well as shipyards and private investors.
FSUE Rosmorport is currently the key customer of dredging works in Russia. According to the company, about 10 million cbm will be excavated in 2019.
Maintenance dredging is to be conducted in the ports of Astrakhan, Taganrog, Arkhangelsk, etc. The scope of dredging in 2019 is not as high as in the previous years due to completion of ambitious projects commenced earlier.
This year, Rosmorport will undertake capital dredging in the southern part of Ust-Luga port (850,000 cbm).
Besides, dredging is to be completed in Sabetta port under the Yamal-LNG project. Rosmorport's own resources will cover about 70% of dredging works in 2019.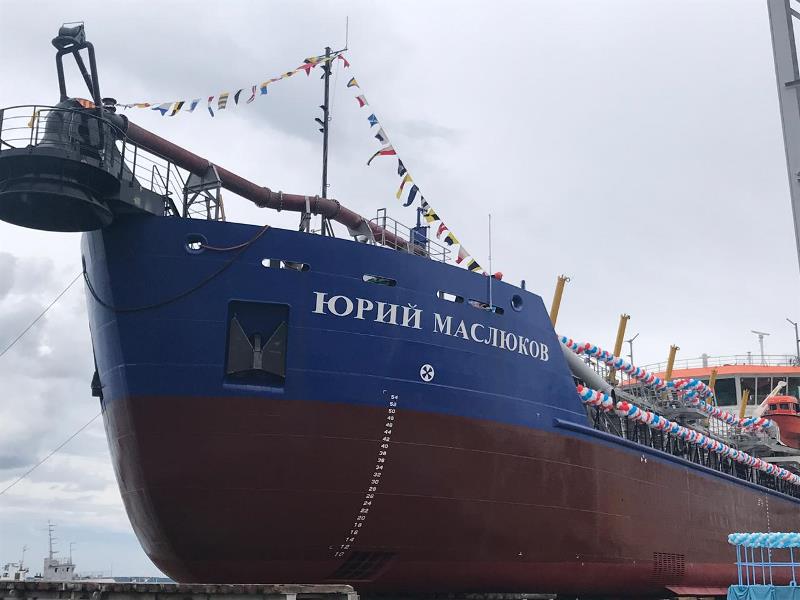 "With the expansion of our own dredging fleet we succeeded in keeping the cost of dredging services in Russia. Meanwhile, our usual subcontractors hardly invested in modernization of their dredging fleet having reduced their footprint in the dredging market", commented Andrey Lavrishchev, General Director of FSUE Rosmorport.
Meanwhile, RF Government authorized Rosatom to develop infrastructure in the Arctic Zone including dredging in Arctic ports and at the approaches to them. Earlier, it was the responsibility of Rosmorport.
According to Rosatom, capital dredging on the Northern Sea Route is estimated at 25.75 million cbm including 12,363,600 cbm for the Utrenny terminal's startup complex No1, 12,415,000 cbm for its startup complex No2, as well as 150,000cbm for Chaika terminal of the Dickson port and 816,000 cbm for Sever Bay (Bukhta Sever) terminal.
Annual maintenance dredging is estimated at about 1.4 million cbm including 628,000 cbm in the water area of Sabetta and 761,000 cbm in the sea canal, in the Northern part of the Gulf of Ob.
Head of Rosmorport emphasized that the company is not planning pre-arranged dredging on the Northern Sea Route after 2019 but does not rule out participation in tenders that can be announced by Rosatom.
The scope of works
Speaking more specifically about the projects in the Gulf of Ob, it should be noted that RF Government has allocated RUB 4 billion for dredging as part of the Utrenny project's preparatory phase to be completed in 2019 and RUB 8.3 billion for expansion of the access canal to Sabetta port.
Mordraga LLC has been defined as the only contractor of dredging works for Utrenny terminal. According to the Order of RF Government, the works include the creation of an access canal and the water area.
Apart from dredging in the Arctic, Russia has a number of other ambitious projects that can require considerable capital dredging.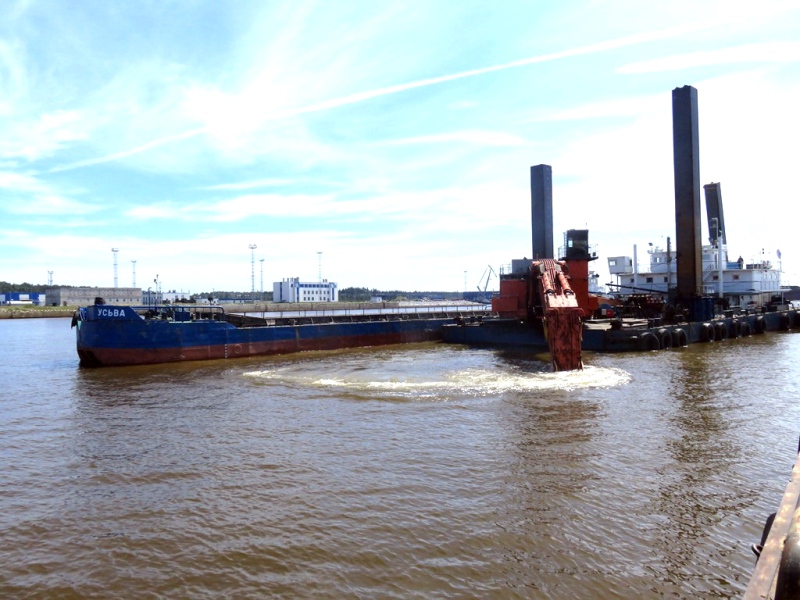 Among them are construction of a dry cargo area in the port of Taman, construction of new terminals in the port of Ust-Luga and in the Far East, construction of a passenger terminal in Pionersky of the Kaliningrad Region, construction of a coal port, Lavna, in the Murmansk Region and implementation of new stevedoring projects in the ports of Primorsk and Vysotsk.
Deep-water area of Taman is to see the largest scope of dredging – 49.3 million cbm is to be excavated in the access canal and in the water area. The main part of the water area is to be 19.5 meters deep with other sectors to have the depth of 18.2 m, 15.3 m, 12.7 m and 7.1 m.
The project foresees the construction of ten sea terminals with four of them to be placed on reclaimed territory of 204.35 hectares. This territory is to be created using the soil excavated during the dredging works. Some 16.75 million cbm of material is to be used for that purpose.
The scope of dredging under the project on construction of a passenger terminal in Pionersky is estimated at about 1.3 million cbm. Lavna project foresees dredging of more than 1 million cbm. Land reclamation is also planned for construction of multipurpose transshipment facility Lugaport.
Dredging of inland waterways is the responsibility of Basin Administrations bodies subordinate to Rosmorrechflot. In 2019, those works included repair dredging in shallow sectors of the Oka river by Moscow Canal (822,000 cbm as of the end of July 2019).
Also, annual dredging of 1.5-1.8 million cbm is needed to maintain guaranteed depth of 200 cm on the Belaya river required for stable transportation of oil products from the Ufa Refinery.
The fleet is coming up
Russia is also building up its dredging fleet. In August 2019, Onezhsky Shipyard in Karelia launched TSHD Yury Maslyukov of Damen design.
In July 2019, Rosmorport expanded its fleet with self-propelled hopper barge Rabochaya which is to be used in a pilot project on unmanned navigation.
Onezhsky Shipyard is also building two self-propelled hopper barges with hold capacity of 600 cbm each.
A total of four dredgers are to be ordered by Rosmorport by 2030 including a non-self-propelled pipeline dredger and three trailing suction hopper dredger with hold capacity of 1,000 cbm.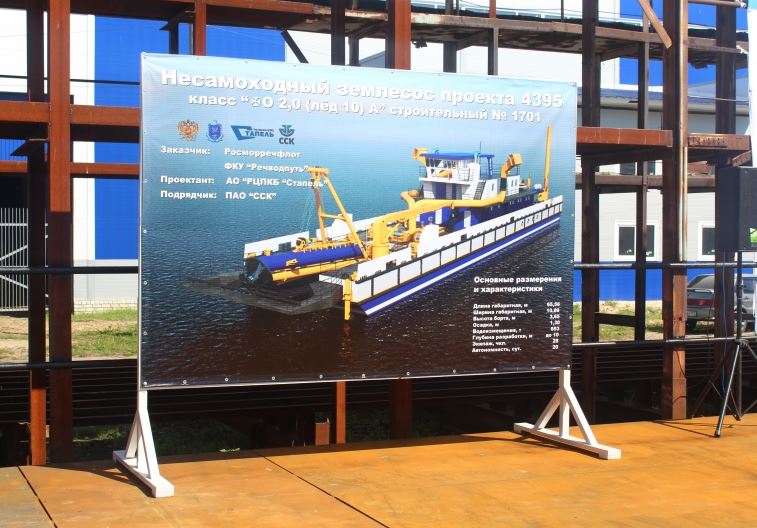 On 13 August 2019. Gorodets, Nizhny Novgorod Region based Shipbuilding, Ship Repair Corporation hosted the keel laying ceremony for a non-self-propelled suction hopper dredger of Project 4395. The dredger ordered by the Federal State Institution RechVodput for the FSI Authority of the Kama Basin of Inland Waterways is to be built by 2021.
In March 2019, GTsKB Rechflot signed a contract to develop documentation for construction of a lead dredger of Project 3409А with capacity of 250 cbm/h intended for dredging of heavy cohesive and non-cohesive soils of Category I – V.
There are also innovative solutions for dredging designed in Russia, such as nonisotopic density meter designed by Nonius Engineering OOO.
The article was provided by PortNews.